Alright, so many of you already know that I am a FitFluential Ambassador. In case you didn't already know, FitFluential is an amazing network of fitness peeps who share a passion for living a healthy life. As an ambassador, often times we'll get optional mini assignments on things we can share with you. I've missed out on the past few, since I was spending most of my free time studying for my exam. But for this week's assignment – sharing tips on how to achieve a healthy balance during the holidays – I've got the time!
I know I already talked a bit about staying on track during the holidays, but I love talking about keeping balance, so here are a few more tips that I like to keep in mind during the 'hustle and bustle' of  the holiday season.
5 Tips to Maintain a Healthy Balance During the Holidays
1. Get Plenty of Sleep
I don't know about you guys, but this is one that I've struggled with off and on for years and honestly, I think it's probably the most important of them all. This time of year, many of us are always "go-go-go," but it's so necessary to remember to refuel with enough ZZZ's. Sleep affects so many aspects of our lives, especially appetite and mood, and If I don't get enough sleep, then, umm, you probably don't want to be around me.
2. Schedule in Exercise
For the past month, my schedule has been jam-packed: work, holiday parties, cookie-baking marathons, time with friends. But also included in that schedule are my workouts. Lucky for me, I'm a morning exerciser, which makes it a bit easier for me to squeeze in my workouts for the week. I go to bed every night knowing exactly what my exercise is going to be for the following day, which makes a world of difference not only for my organization, but for my sanity too.
Also, don't forget – you don't have to do it all at once! Research has shown that doing three 10-minute workouts during the day are just as- if not MORE- beneficial as doing one 30-minute bout. I'm pretty sure we've all got at least 10 minutes in our day, right?! ;)
3. Be Picky!
Whenever I go out to a party or am at an event where there are lots of food options, I try to utilize my "top 5" rule. Now don't get me wrong, I am human and this doesn't always work for me. But for the most part, it has proven to be pretty helpful. Basically, I scope out the scene and see what's available. If there are options that I either a) could make myself, b) wouldn't usually go crazy about, or c) have pretty often, then I'll pass on those. But if there are foods and/or drinks available that I wouldn't normally make, buy, or choose, then I'll go for 'em.
I also try to be picky about the quality of the food, especially when it comes to baked goods. I (almost) always pass on the store-bought cookies and/or cupcakes in favor of the homemade goods. If I'm going to indulge in some treats, then I want it to be the real deal!
4. Prioritize Your To-Do's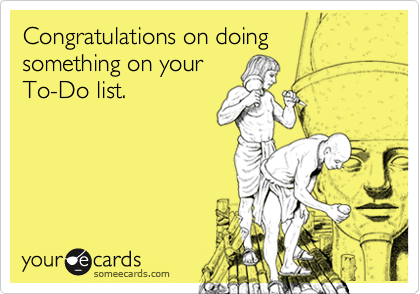 I love making lists. I always have. So it's inevitable that I end up with a to-do list every day that almost never gets fully completed. At first, this used to really bother me. I'd feel like a total slacker. But then I realized that I was putting things on my to-do lists that could definitely wait for another day. So now, I may make a list with 10 items, but I know that I need to prioritize that list and work from the most important, to the least important. I'll bet if you take a look at your to-do's today, there's a few things that could wait.
5. Allow Some Indulgences
This is something that is absolutely necessary for me during this time of year. Holidays come with treats…treats should be enjoyed…they should not be inhaled in large quantities every single day, though! Remember, it's all about balance.
Now…you tell me!
Question for the Afternoon:
What would be some of your "Top 5" tips for keeping a healthy balance during the holidays?