In case you missed it, the Baby Tooth page was updated yesterday with Lucas's 18 Month update!
Man, I just love it when I find out about random fashion items out there that could absolutely make a difference in my day to day. Sometimes, some of them are just totally outlandish and wayyy to far out there for me. Other times, I find something and I'm like "ohmygodwhydidn'tithinkofthat?!"
I recently came across a few fun items that I thought I'd share with you all because, hey, we can all use some new, random, somewhat unnecessary items in our dresser drawers every now and then. But this first one really takes the cake…
I mean, how amazing are these? Trying to wear flats or pumps in the winter months can pose quite a challenge. These socks help keep you warmer than the little footie things you can buy and also help keep your shoes on. I'm sold!
You guys want to know one of the number one reasons I don't wear headbands like this outside? Because I can't get them to fit around my hair half the time. But having a headband with a whole cut out for the ponytail? Genius. Why hadn't I thought of that??
I can't tell you how many times I've been in need of something like this, especially when it comes to adding an extra layer up on top. I mean, I certainly don't have the cleavage that the woman is sporting in that picture above, but sometimes you just need a little more to help cover up. I also love the idea of adding the layer under a shirt; added length always looks a bit more slimming, in my opinion!
Going off of my comment above, sometimes a shirt just needs a little something extra to keep you from showing off too much of the goods. BUT, you don't want to look tacky by tossing on a random safety pin and having that show. These buttons would be perfect for keeping things under wraps and also adding a little pizzazz to your top!
I cannot tell you how many times I've traveled, only to open up my suitcase to discover that my bras have been mangled and dented. Aaargh! This case is hard molded to prevent dents and bent underwires, and also has a separate compartment sleeve for panties. Love it!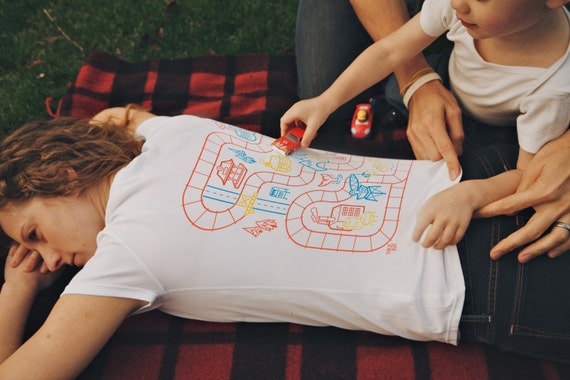 I don't know…maybe I'm crazy, but I have always, absolutely LOVED having my back massaged, rubbed, or drawn on. I can still remember being in elementary school, sitting on the rug during story time, and all of the girls asking each other to either play with their hair or "draw on their back." Was that just a "my school" kinda thing? Either way, I always love that feeling…and when Lucas gets old enough to understand how he could use this shirt to ride his cars around on, I can guarantee you that I will absolutely be getting one of these. Keep the kiddo amused AND get a mini massage? Sign. Me. UP.
(You can check out more fun clothing items in the original post I discovered, here!)
Have you discovered any fun, random clothing finds lately that have made a difference for you??