Well, let me tell ya. By the time I got home from my parents' house last night after work, I was lucky I had the patience to even take off my jacket before diving head first into dinner. I was haaaaangry.
Luckily, I not only managed to get the jacket off, but I even changed into my cozies and allowed my goulash the two minutes it needed to heat up in the microwave.
I thoroughly enjoyed my big bowl of mom's goulash and a piece of toast with butter while reading through my latest issue of Rachel Ray magazine. There was actually quite a few recipes I tore out, including one for a Garlic Bread Bowl with Spicy Pizza Dip. Umm, yeah. That has Super Bowl written ALL over it.
As I was sitting at the table eating dinner and reading, I couldn't help but notice my little sidekick.
He was eagerly waiting next to me with his fetch toy, so I played a few rounds with him, but eventually all he wanted to do was stare at the bottom of the fridge. If Cody stares at a fetch toy near the bottom of the fridge and doesn't go after it, that only means one thing…
There were others under there that he had his mind on.
Sure enough, he was happy as a clam after that little treasure was presented to him.
Geez, he cracks me up.
As for the rest of the evening? Well, I had it all blocked off for one thing, and one thing only…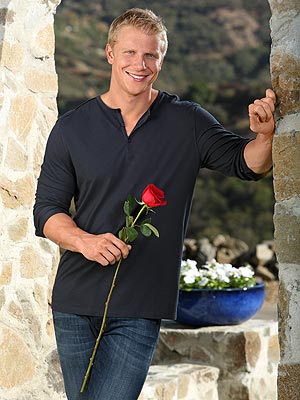 source
That's right, baby. It's Bachelor time. And Mr. Sean Lowe has my full attention for the whole season.
*****
*The Baby Tooth page was updated this morning! (It does have ultrasound pics, so just a heads up in case they aren't really your thing).
Question for the Morning:
Where are all my fellow Bachelor fans out there?!? What did you think of the first episode?
How about Robyn who attempted the back flips and totally fell?!? I'm sorry, but that was just funny!