What rock have I been sitting under for all 26 years of my life? Seriously, why have I never tried Indian food????
I think I'm in LOVE!
Last night after the HLS sessions officially ended, a group of us met up and headed to the Chicago Curry House for a late dinner.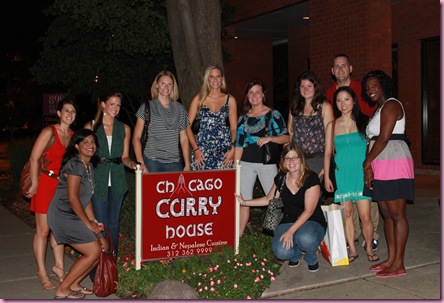 I was so glad that Gina decided to organize such a great dinner! Thanks, Gina! :-D We had a group of about 20 or so people, and I was very much relieved to find out that I was not the only "Indian Food Virgin" at the table. ;) I'd heard before that Indian food can definitely have a little "kick" to it, so I'm not going to lie, I was a little nervous! :shock:
To start the night off, Gina, Paige & I split a bottle of Riesling.
It was fantastically delicious.
Then the table was given some pappadum & some dipping sauces to start.
I have no idea what each of them was called, but I do know that the green one was spicy, the brown-ish colored ones were sweet (my fave) and the other was apparently super salty, which I did not try.
The group decided to order a few of the dishes "family-style" to share, but others were also welcomed to order their own entrees. Since, I had some new horizons to explore here, I decided to dabble in a little bit of both. :)
A few veggie appetizers to start:
I tried a piece of fried cheese, along with a dumpling of sorts, which Sana explained were filled with potatoes and peas.
The dumpling was a little too spicy for me, so Sana gladly took care of finishing it for me. ;)
The table also ordered an Channa Masala (phenomenal),
a baigan bhartha (spicy, but totally yummy),
some white rice,
naan, and roti.
One thing that I knew I could take away so far from this meal? Naan should be a food group all of its own. HOLY YUM-O!! This stuff is flippin' fantastic!
And since I wanted to try as many new things as possible, I also decided to split an entree off the menu with Kristi. Again, with the help of Sana & Gina, they recommended I try the Butter Chicken…
…and my love for Indian food grew deeper.
The chicken in this dish was very tender, almost shredded. But I think even more than that, I loved how much extra sauce there was to be able to dip my naan in. The sauce was thick and creamy, with a delicious tomato & buttery flavor. It was a bit spicy at times, but luckily the extra naan helped to cool things down a bit. ;)
Paige, Sana, Me, Gina, & Kristi
At the end of our dinner, a big bag full of treats magically appeared, courtesy of Lin! She had made some of her delicious Vegan brownies to share with us. How sweet is she?!? I think we all immediately dug into our treats…apparently I'm not the only one with a sweet tooth after dinner? ;)
One of my first missions when I get home: FIND A DELICIOUS, LOCAL INDIAN RESTAURANT!!
*To my locals: Do any of you happen to know of a good one nearby??? :-D