Oh my goodness. I still can't believe that the Healthy Living Summit has already come and gone. It's been months in the making and just like that, it's over in a flash.
I still have so much that I want to talk about with you, and I will definitely spend some time getting into our panel discussion on negativity. But first, I have to share last night's dinner experience with you all.
Once all of the sessions were officially over, a small group of us got ready and headed out for some dinner. Unlike the previous couple of nights, our planned dinner destination was a little bit farther so we hopped in a cab and made our way over to pod.
Gabriella is the one who suggested pod and I've got to say that it was nothing like any other restaurant I've ever been to. I mean, the atmosphere was just…for lack of a better word…awesome.
Pod is a modern, family-style Asian fusion restaurant, featuring not only a killer food menu, but some pretty intriguing drinks as well.
I made a game time decision and ended up ordering the Lychee and Peach martini.
It was good, but more in a "this is so delicious I could just down it like it's juice" sort of way. Almost a little too sweet (and dangerous) of a mixed drink for my liking.
To start, the table shared a couple orders of warm edamame, which was salty and delicious.
For my dinner, I rolled with the Thai Salad, which was made up of cabbage, cilantro, egg, peanuts, avocado, oven-roasted tomatoes, and a vinaigrette that I got on the side. This salad packed in some serious flavor.
I also ordered a California roll.
The entire dinner was spent chatting and laughing with some amazing ladies that I just could not get enough of this entire weekend.
But I suppose I should rephrase; it wasn't all ladies…
Gina and the Pilot were with us, and I have decided that they have got to be one of the most adorable couples I know (not to mention great company!).
As if dinner couldn't get any better…
Desserts to share with the table:
Butterscotch Brown Sugar Cake (crumbled gingersnaps, butterscotch panna cotta)
Mocha Brownie (cappuccino ice cream, dark chocolate sauce, toasted macadamias)
Fluffernutter Spring Rolls with warm chocolate peanut butter dipping sauce
All three of these were so so so so good. And I kinda want to eat all of them everyday of my life.
Such a fun night!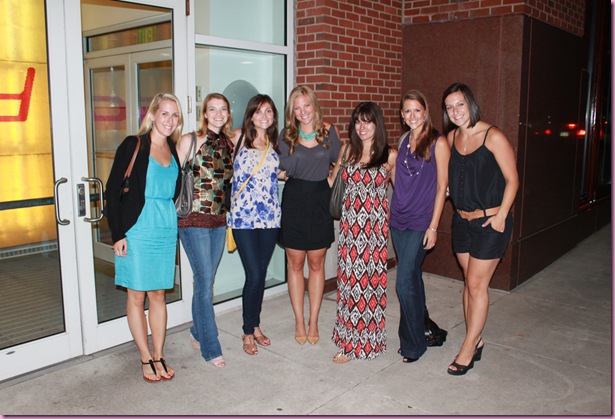 (photo courtesy of Gina)
Gabriella, Tina, Brittany, Julie, Gina, Me, Allison (+ the Pilot, who took the photo)
But it wasn't over YET. After dinner, we went to a wine bar for another drink and then followed it up with some more fun at the hotel bar.
Champagne and salty snacks enjoyed while sharing scary ghost stories? Yes please!
Cheers to awesome friends and a fantastic weekend!
Talk about a great way to end the evening, right?
*****
Before I forget! For those of you who asked about my dress from Friday's cocktail hour,
The designer is Bisou Bisou and I bought it last summer at JCPenney. It's one of my favorite dresses and I was so excited to have another chance to wear it, since the only other time it's seen daylight was in Vegas last year. I'm so glad you guys liked it.
More recaps still to come; but for now, I need to go lay down and most likely pass right out. I am exhausted!
Catch ya'll tomorrow.
*Side note: Are any of you out there noticing a slow loading of my bloggy? Things have been sort of slow on my end, but I wasn't sure if it was just me or if it was happening for everyone…?