It's been a pretty uneventful week of pregnancy over here this week…
But we are one more week closer!
Baby Tooth is just over 26 weeks today and is about the size of a head of lettuce.
Here's what Baby Tooth has been up to this week:
Baby Tooth is now about 13.6-14.8 inches long and weighs 1.5-2.5 pounds.
He may now be able to hear both my voice and Jay's as we chat with each other. For this reason, I've told Jay he has to be 100% nice too me ALL of the time from now on. Haha.
He's inhaling and exhaling small amounts of amniotic fluid, which is essential for the development of his lungs. These so-called breathing movements are also good practice for when he's born and takes that first gulp of air.
He's continuing to put on baby fat, and his "parts" are continuing to develop.
And here's what's been happening with me this past week:
Weight gained: No idea, but I feel totally huge this week!
Workouts: This past week was a bit lighter on the exercise front. I believe I got in about 3 solid workouts, with another quick makeshift one thrown in the mix. Still a mix of the usuals though – cardio, Pilates, and some weights.
Symptoms:
Some stomach discomfort, which comes and goes in my upper abdomen. Nothing painful really, just more of a nuisance than anything.
Back pain…I've been very lucky my whole life to never have really had to experience back pain. This past week has been a whole different story though. And it's not just my lower back…it's the whole shebang.
Acid reflux, but nothing too bad.
Still lots of trips to the bathroom. Nothing new there!
Movement: Oh my gosh, SO much! Now we get a total kick out of watching him move. He's actually most active at night, usually between 8-10pm, so while we're hanging out on the couch he'll usually give us a bit of a show.
Food Aversions: Not too many – hot coffee is still ehh.
Food Cravings: Mexican, guacamole (specifically, TJ's guacamole hummus), cold foods, chocolate, and carbs. Lots of carbs.
Sleep: Pretty good this week!
Stretch marks? Nope!
Miss Anything?  Regular pants. I'm pretty much exclusive on the maternity pants now, and most of them have the band that covers the whole belly. It's great for the first half of the day, but then I cannot wait to take them off and put on my yoga pants or sweats.
Fun and/or Interesting Things from the Week: Ordering invitations for our baby showers! We're having two, and I had a blast checking out Etsy for some cute designs. Here are the two that we picked out: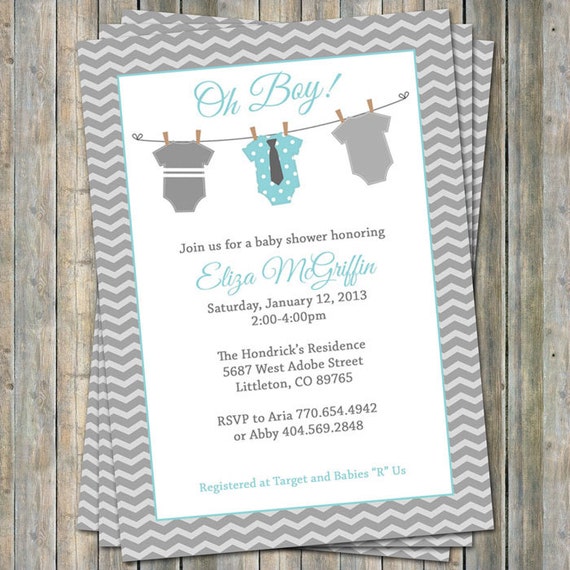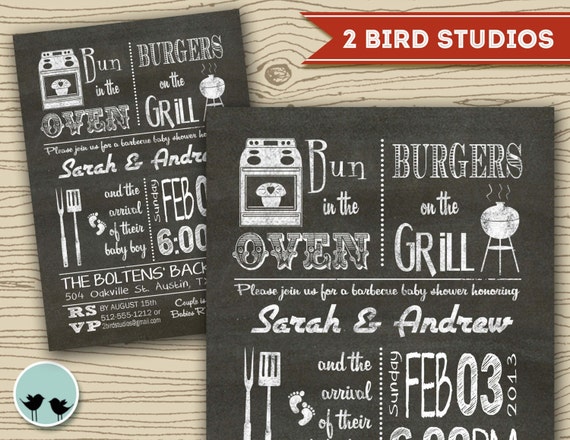 Cute, right?!? (Invite on the left can be found HERE / Invite on the right can be found HERE).
One of the showers is going to be women-only, and the other is going to be held at my parents' house and will be a "Jack & Jill" type shower with guys and gals. I'm so looking forward to both!!
Belly Button in or out? Still in. And seriously mom, I really don't think it's going anywhere!
Wedding rings on or off? On.
Happy or moody most of the time: Definitely happy the majority of the time…but I have noticed this past week that I've had a few instances of moodiness. It really comes out of nowhere, or I get annoyed over the silliest thing…but thankfully, they quickly pass.
New Baby Items: We got the rest of our nursery furniture over the weekend! We're still working on putting everything together, but I'm already loving it. Here's a little peek…
Looking Forward To: Doing more with the nursery, helping with my two baby showers coming up at the beginning of June, and just continuing to watch Baby Tooth (and me) grow!
Question for the Moms:
Did you have a baby shower? Was there anything fun and/or exciting that happened?