One of the (millions of) things Jay and I are super excited about in our future home is our outdoor space. Our new lot is located in a fairly wooded area, but we're planning on clearing a good portion of the backyard so that we'll be able to have an ample living and entertaining space. I already shared some of my ideas for creating an outdoor oasis with you all, and we have visions of, someday, having an in ground pool and a big, beautiful area to entertain.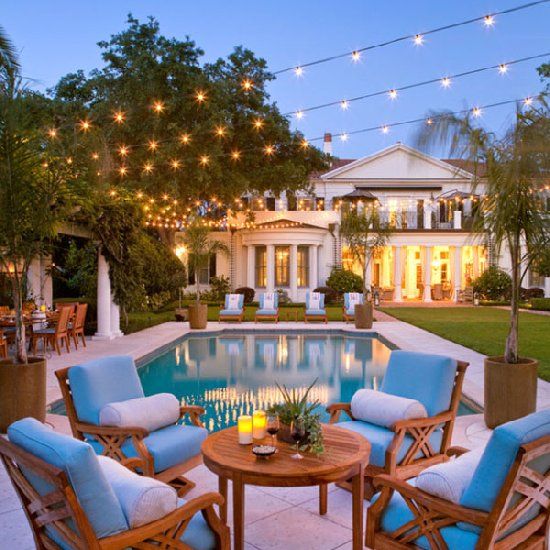 Of course, when you're entertaining, one of the most important things I think you need is enough room for everyone to sit, right?
You guys might remember the old patio sets I told you about before, and they were just that…old. Plus, I never really expanded outside of the dining table + chairs set, and truth be told, Jay always really wanted to buy a cushioned couch and chairs set to really complete our space.
So this month, as part of my partnership with Sears and being a member of their Blogger Squad, I was given the incredible opportunity to do just that for Jay. They asked me to do a complete outdoor makeover for a special dad in my life, and I knew I was finally going to be able to give Jay what he's always wanted (and I'll say it's an awesome thing that we have similar taste). I was SO excited!
This Father's Day, Sears is focused on helping shoppers rediscover Sears as THE destination for Father's Day, with more gifts he'll love for Father's Day and year-round. Whether you're looking to make over your dad's look or where he spends his time, Sears has a huge assortment of gifts for all the dads in your life under one roof, at all different price points to fit your budget. Be sure to visit: sears.com/DestinationDad to check out all they have to offer!
I really thought about making it all a surprise for him but, logistically, I knew it just wouldn't work. Plus, I wanted him to be able to have a say in what we were getting, since he's gotta like it too.
I'm sure you may be thinking, umm Courtney…you have no backyard yet?? This is very true but luckily, my parents' have quite a large backyard, so we're essentially "borrowing" their space until ours is ready in a few months. We'll still get to enjoy it when we're here, so it's a win-win!
Jay and I spent a few different days browsing around the Sears Outdoor Living site to see what would could find to create a perfect outdoor space. It was quite easy to say "I want this! And THIS! And OHMYGOD we need THIS too!" So, in an effort to make sure we didn't go overboard, we made a list of some of our essentials:
A dining set large enough to sit at least 6 people
A cushioned seating set with a sofa or love seat, chairs, and a coffee table
More table options for additional space to put things down
Fun, decorative lighting
So while this isn't our own backyard just yet, we still had a total blast doing a little makeover in my parents' backyard, and I have no doubt it'll be even more fun doing it in our own soon enough. Here's a look at the before…
THE BEFORE
There's certainly nothing wrong with the space (as there shouldn't be, since it's not reeeeally a makeover for my parents' backyard!). It's just lacking in some additional furniture and seating, and "pizzazz."
Then we got to work a bit…
Aaaaaand…
THE AFTER…Part 1!
So we actually got two different sets of furniture, and this was the first main piece. After browsing through just about ALL of their dining sets, we ended up choosing this Garden Oasis Harrison 7 Piece Dining Set.
Compared to some others the price was great, reviews were good, it had the type of chairs we wanted (not fabric), and it could seat six. It's exactly what we need.
The fathers certainly enjoyed it!
Not so sure about Lucas.
Another item I picked out, and was super excited for, were these Garden Oasis Pedestals with Solar Lanterns. How fun are they??
Since we haven't been at my parents' house when it's dark, we haven't had the chance to see them lit up just yet, so I'm looking forward to seeing that.
So that was the first half of our backyard makeover selections that we chose! I thought about setting everything up side by side so they could all be together, but I really liked the look of everything on their mini patio, so I decided to do it in two phases. Now…
The After…Part 2!
Oh mannnnn, guys. I cannot even begin to tell you how excited we were for this! The first set I decided on, before anything else, was this Ty Pennington Style Parkside 4 Piece Deep Seating Set. It also comes in red and green, but since we have no idea what our backyard will be looking like, we decided to go neutral with the tan.
That set came with the love seat, two chairs, and the coffee table. And you like the new placement of my solar lanterns?
Once we had chosen the 4 piece set, we started looking for accompanying pieces and discovered that there are quite a few! Knowing that we had envisioned, we also purchased the Ty Pennington Style Parkside Ottoman and two of the Ty Pennington Style Parkside Lamp Tables seen below.
I think I'll eventually get some fun accent pillows in a nice, bright color for this set…but for now, we stuck with some more basic accessories.
Like two of these Ty Pennington Style Small Concave Plant Stands (which quite obviously need some plants…)
And two of these SunJel Savannah Large Lanterns. I forgot to order the fuel cans to go with them, but I'll likely snag a 12 pack of them as well.
We're just absolutely thrilled with the entire look and cannot wait to be able to put it in our new backyard (which will inevitably not look nearly as nice as my parents' backyard right now, that's for sure!).
The shopping experience was super easy for us, too. We thought about going over to our local Sears to check things out in person, but since we were in the midst of moving during it all, we needed something we can do easily in the evenings. So browsing their website was the name of the game for us. All of the items that we ordered were either shipped, picked up in store using their In-Vehicle Pickup service (remember that?), or a scheduled delivery (for the larger items). The scheduled delivery was super easy to arrange, and I loved that you could even narrow it down to smaller windows of time (because isn't it the WORST to be sitting around all day waiting for a delivery??).
Our scheduled delivery came right on time, and the employees working were incredibly nice and helpful in getting things set up. We did have a few issues in terms of being able to order various pieces (they weren't available in-store near us, or were not able to be delivered to my area), so that was a little disappointing. But other than that, it was a great experience and I am thrilled with the way "our new" backyard turned out! Now I just need to be able to put it in our new backyard.
So if any of you are still looking for gift ideas for the special dad in your life, I would totally recommend you head on over to your local Sears or Sears.com to do your own makeover! Then be sure to share YOUR before / after pics on social media using #DestinationDad!
Win a trip to Craftsman MAKEcation in New York!
Have you guys become a Shop Your Way Rewards member yet? You can sign up for FREE and then go ahead and enter the Battle of the Beards Father's Day Contest for your chance to win a trip to Craftsman MAKEcation. Go ahead and enter by visiting here: shopyourway.com/Beard
What kinds of gift ideas do you have this year for the special dad in your life?
What do you think he would love from Sears?
Disclosure: I am a member of the Sears Blogger Squad. I received a gift card to purchase the items shown above and was compensated for this post. All opinions, as always, are my own. Thank you for your continued support of STSL! <3