Well, we've finally made it to my final recap of the Blend Retreat. I still need to work on putting together a recap of all the fun that was happening here in NYC yesterday, which will hopefully happen later today. But for now, let's talk Colorado.
I honestly can't even begin to tell you what an incredibly awesome weekend it was, and I'm SO glad I made the last minute decision to attend (after being easily persuaded by Ms. Alyssa). The people were great, the sponsors were amazing, and the swag? Oh man, it was out of this world. I realized that I actually never took any photos of our swag bags, but Jillian did – feel free to check out our spread of goodies!
Before I forget, I need to backtrack a bit…do you guys remember when I told you I had the chance to meet the one and only Justin himself from Justin's Nut Butter? Well, here's my proof!
Maddy from Love Grown had taken this photo before we started our tour and I had totally forgotten about it until I saw it over on Lindsay's post. (Speaking of, her recap post is awesome, so feel free to check it out – she did a much better job of capturing scenes from the whole weekend than I did!).
I should also add that when I received that awesome box of goodies from Love Grown, this little gem happened to be hiding out in there…
Oh yes. It's just like a Snickers bar, but better. And healthier. And it was thoroughly enjoyed last night while hanging out with Jay after work. I have yet to see them anywhere, but you can bet that I've got my eyes peeled for 'em.
*****
So now…on to the recap! On Sunday, we all had another early morning wakeup call for bootcamp, which was led by the Chobani Fit team.
photo courtesy of Chobani
The bootcamp had us broken into groups and completing a number of different stations of workouts that ended up hitting the whole body. It was a bit chilly on Sunday morning, so I was glad that we got things moving quickly.
Once we were finished bootcampin' it, we were treated to another delicious breakfast spread, sponsored by Chobani.
Fresh fruit, vanilla CHO, Love Grown granola, half a cinnamon raisin bagel with PB&J and some more yummy coffee. Filling, delicious, awesome.
After breakfast, the group gathered around for closing ceremonies and a raffle where I'm pretty sure there were enough giveaways for everyone to win something.
photo courtesy of Bobbi
I ended up winning a Chobani Fit hat and bag, but never took a photo. Woops. But I did finally get a chance to meet my wonderful and awesome Chobani friends!
photo courtesy of Alyssa
Once the raffle was over, everyone headed back to pack up, said their goodbyes, and before I knew it, I was on my way back home. I shared a cab to the airport with Alyssa and Jillian, and since we all had a little bit of time before our flights took off, we decided to grab something to eat…
I'm starting to think I may have a problem?
Alyssa and I opted for a fro yo "lunch" of sorts to help get us through our travels.
Hey, sometimes it's just necessary, mmmkay?
From there, the rest is history – I made it back home safely and I now have a full weekend full of amazing memories with some incredible ladies.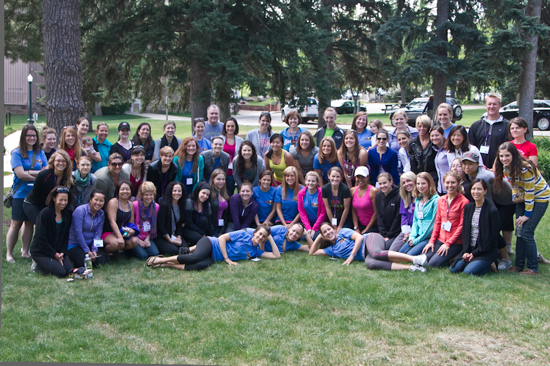 photo courtesy ashley mclaughlin photography
I'm already looking forward to going back again next year.
A great, huge, enormous, big 'ol thank you to Janetha, Lindsay, and Katie for making this happen!