I'll tell ya…there is something about a group of bloggers going out together for a meal that is just quite the phenomenon. I mean, just take a look at our group as we were making our way out to lunch this afternoon.
There had to be at least 25 of us walking up and down the streets of Philly this afternoon, in what turned out to be some gorgeous weather. Thank goodness for the good weather because I don't think I could handle another walk through the rain like we did last night. Yikes.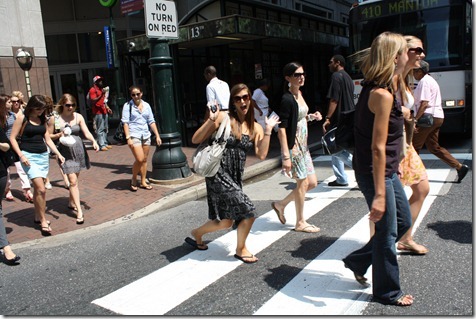 (photo courtesy of Caitlin)
The original plan for lunch today was to head to a place called Govinda's Vegetarian, which is a local vegetarian and vegan spot. Unfortunately, I'm not sure all of us realized just how small of a place it was, and we quickly decided that it just wasn't going to work.
So our group broke apart, with some staying at Govinda's and some of us out on a mission for a new place to feed our bellies. Seeing as though I've never been to Philly, I was pretty much just following our little pack, which landed a few blocks away at Pumpkin Market.
Pumpkin Market was also pretty tiny inside, but it was really cute and the menu sounded pretty tasty, so we decided it'd be best to just wait it out. Plus, most of us were pretty hungry at this point, and didn't want to risk not being able to find somewhere else to go.
We all filled up the small tables outside and chatted away while waiting for our food. Thankfully, it was well worth the wait. I ordered one of their sandwich specials for the day, which was made up of turkey, hummus, sprouts, avocado, and tomato (I added extra) which I got on whole wheat bread.
I absolutely loved how the hummus was freshly made, the turkey was much thicker and fresher than your average deli meat, and the vegetables were crisp and fresh. The sandwich was definitely good enough to overlook the fact that the roof of my mouth is now severely cut up from the toasted bread. Why oh why does this always have to happen with toasted sandwiches?
My sandwich also came with a side of some sort of cannellini bean salad which was really good too.
So far, we're 2 for 2 here in Philly with restaurants. Woo Hoo!
(But I still have yet to get my fro yo, darn it! Hopefully tomorrow…)
Once we arrived back at the hotel from lunch, we checked in for the conference and snagged our swag bags.
Looks like we've got some pretty rockin' swag this year!
I also picked up a copy of tomorrow's agenda…
Ohhhh boy…it's almost time!
But for now, we're getting ready for tonight's cocktail party at Reading Terminal Market. I'm suuuuper psyched!