Isn't it funny, how just last week I was introduced more properly into kettlebell training and within the same week, I had the opportunity to review a book all about kettlebells?
I was recently contacted by TLC Book Tours, asking if I'd be interested in reviewing a book from one of their tours called THE SWING!, by Tracy Reifkind. Seeing as how the book was fitness-related, and involved a topic that I really would like to learn more about, I quickly took them up on the offer.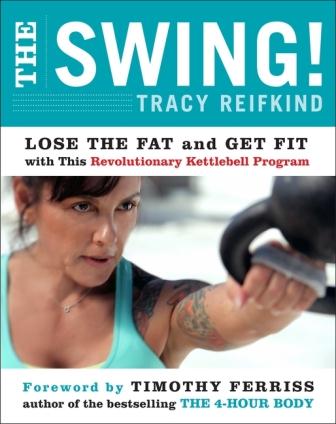 The author, Tracy Reifkind, lost 120 pounds at age 41 and credits it all to kettlebell swing. She has kept the weight off for the past six years, became a certified Russian kettlebell instructor, and is now devoted her life to helping others with her Revolutionary Kettlebell Program.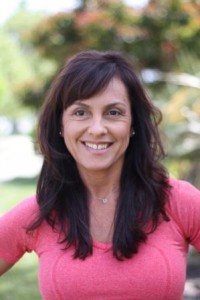 In addition to her book, Tracy also has a Facebook page, so feel free to check that out; she often links to some of her posts from her own blog, which cover a variety of topics, from what I've seen.
About the Book
THE SWING! is divided into four parts:
Mind –> Tracy uses this first part of the book to explain how a positive, "can-do" attitude will help in achieving the best possible results
Body –> This section's main focus is LPT: "Learn, Practice Teach." Tracy goes into great detail here on the advantages of kettlebells, the proper technique for performing the kettlebell swing, numerous variations of the swing, as well as a number of workouts that can be completed.
Food –> This section includes a food plan with a focus on learning how to feed yourself with proper nutrients and whole foods. In addition to some basic nutrition information, Tracy also shares extra diet advice, as well as some of her favorite recipes.
You Won the Lottery –> This is the shortest section of the book and is more of an inspirational piece than anything else. Tracy uses this part of the book to encourage readers to believe in themselves, break down barriers, and take control of their own lives.
My Thoughts/Opinions
Overall, I enjoyed most aspects of the book. I wasn't as interested in the "Mind" section of the book, because it seemed to be geared more towards those who are lacking the willpower and motivation to begin leading a healthy lifestyle. One thing that I did not agree with, however, in this section was her claim that "exercise machines at the gym will not help you lose weight."
I found this small section a bit odd, as she claims that gym machines don't allow you to burn enough calories(??). She also mentioned that gyms are geared more towards people who are trying to maintain a healthy weight, not for those who are overweight. This has never been the case in my experiences, so I'm not quite sure where that information came from.
source
The "Food" section was also one that I considered myself to be pretty well-versed in, since in mainly covered the basics of calories, meal composition, and a breakdown of proteins/fats/carbohydrates. For someone in need of some basic knowledge on those subjects, however, the section was very well-organized.
The "Body" section, however, was the one that I was most interested in and the one that I read most in-depth. Tracy included a number of photographs to illustrate the correct and incorrect ways to implement the kettlebell swing, which would be useful for all readers, ranging from novice to advanced.
source
It was very obvious that Tracy is very committed to, and feels very strongly about the use of kettlebells as a great workout for your body. The breakdown of its advantages are definitely appealing…
It's two workouts in one – at once aerobic and anaerobic, the swing is simultaneously cardio and strength training.
It feels natural – the specific movement and rhythm of the swing is a primal motion not evoked in any other exercise.
It's not a dumbbell – while some use kettlebells as they would dumbbells, the swing cannot be done with a dumbbell, giving it a unique advantage over every other form of weight resistance exercise.
Boredom isn't possible—the workouts are concentrated, the routines are varied.
For someone who may be interested in learning more about kettlebells, or for anyone in need of a little "healthy lifestyle jumpstart," this book does a really good job of doing both. I definitely feel as though I gained more knowledge of kettlebells and have actually bookmarked a couple of the workouts to try sometime in the future.
Giveaway
TLC Book Tours has actually offered to giveaway one extra copy of the book to a STSL reader, so if you're interested, simply leave a comment on this post saying why you'd like to win a copy for yourself.
I'll choose a random winner tomorrow, May 3rd.
*****Congratulations to the winner of the giveaway…comment #70!
Congrats, Roni! Please email me at sweettoothcourtney[@]gmail[.]com so we can ship you your new book!
Thanks so much to TLC Book Tours for allowing me to review this book and offer a giveaway to my readers!