Oh my gosh…after being gone most of the day yesterday, I feel so behind on life!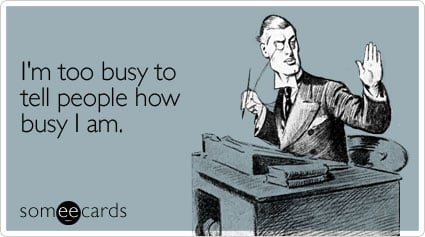 (you can always count on a someecard to express how you feel, can't ya?)
Honestly, I'm a pretty busy gal, but I'm not that important busy to the point where I feel like a total slacker after leaving my routine for a day. For some reason though, I now feel like I'm going to be playing catch up for days.
Aaaaand my living room and kitchen are still in shambles which is driving me totally bananas.
Yikes. I am going to have my work cut out for me today.
But before I can tackle any of that, I have a couple client training sessions this morning at the gym, so I put together a small, quick breakfast before heading out.
Can't beat a yogurt bowl with fresh berries when you're pressed for time now, am I right?
Did you guys see? I'm so bummed that my favorite Mexico bowl already has a chip in it…and the blame for that one can be pointed right back at Yours Truly.
If I could only keep my hands on the darn dishes when I'm washing them…stinkin' butter fingers.
*****
Need some workout inspiration today? Try this…
Choose a number, 1-4. Then take that number and use it to complete this killer circuit workout. You'll be feelin' the burn for suuuuure.
Question for the Morning:
What is your biggest workout motivator? Any tips you've found helpful that keep you motivated to keep movin'?