Alright, I have good news…I think these biceps and forearms of mine are finally starting to get back to normal!
If you remember, I showed you guys my massive, bulging arms (<—I'm totally being dramatic, I know they aren't that bad) last week.
The workout that caused this happened last Monday, but the swelling didn't appear until about Wednesday.
Here's a little look at some before and afters:
Before                                              After
Before                                              After
Before                                               After
My biceps appear to be going down a bit more than my forearms, which is fine. I'm not back to 100% just yet, but I'm definitely getting there. Thank goodness!
Don't mind my super hot at-home workout attire, mmmkay?
What I have here is basically a classic case of DOMS, or Delayed Onset Muscle Soreness.
DOMS can be described as the muscle pain, muscle soreness or muscle stiffness that occurs a day or two after exercise. This muscle soreness tends to happen when you begin a new exercise program, change your exercise routine, or dramatically increase the duration or intensity of your exercise routine (source).
DOMS is something that many of us have probably dealt with at one point or another, but maybe not to such an extreme. If you do find yourself in the same boat as I am, here are some different things you can try to deal with the discomfort and/or swelling:
Rest and Recover. If you simply wait it out, soreness should go away in 3 to 7 days with no special treatment. Even though mine has lasted a bit longer, I've been keeping in touch with my doc and he seems to think I'm alright.
Try a Sports Massage. I really wish I had time for this one! Some research has found that sports massage may help reduce muscle soreness/reduce swelling .
Try an Ice Bath or an Epsom Salt Bath.
Perform Gentle Stretching.
Try a Nonsteroidal Anti-inflammatory. Per my doc's suggestions, I've been taking two ibuprofen, twice a day, to help reduce the muscle soreness and swelling.
Listen to Your Body. Avoid any exercise that increases pain in the muscles you overworked. This has been hard for me, but I know it's only helping me heal. 
Learn something from the experience. I know that some of the movements I was using during that workout were not with proper form. Remember…FORM ALWAYS TAKES PRECENDENCE OVER ANYTHING ELSE!
So, there ya have it. A little science talk for your Tuesday afternoon.
*****
In other news…
I have been busting through my to-do list today, yet I still feel like I have 1,000 things left on it. Don't you hate when that happens?
I've put together two brand new workouts to share with you guys next week. I think you're gonna like 'em!
Eats for today have been pretty delicious, despite the fact that our supply is slowly dwindling. I'm not sharing any of it with you yet today though because I'm saving them for tomorrow.
I am WICKED excited for one of my favorite shows to come back on TV tonight…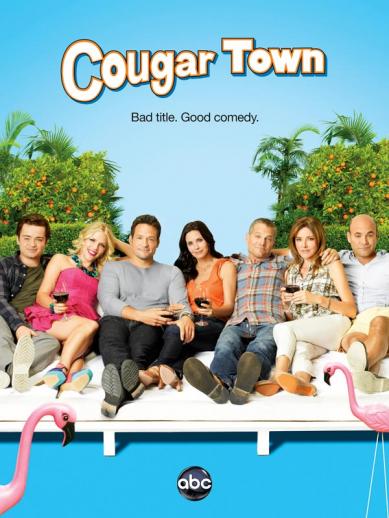 Jay and I absolutely LOVE Cougar Town, and we've been waiting for months for its return. You can bet that I'll be watching as soon as I get home from work tonight.
Have you guys been watching this show at all? It's hilarious.
Almost time to head off to work…hope everyone is having a great day!