Over the past couple of weeks, I've been trying hard to focus on coming up with anything we'll need to stock the nursery. My intention is to make sure that everything is set (hopefully!) within the next week or two, so it's just one less thing that I'll need to worry about as baby boy's arrival nears closer and closer.
Because, really, it's going to be here before I know it. I still can't get past the fact that I'm already 34 weeks this week…HOW is that possible?!?
So with this being our second round of going full steam ahead with the newborn stage, I sometimes feel like I may sort of have a good idea on what I'll need. Other days, I have freak out moments where I think "OMG, I don't remember anything about the newborn stage…that was almost 3 years ago?!?" Thankfully, many of my veteran mom friends of multiples have told me that, somehow, it all just sort of comes back to you. So that's what I'm banking on!
Whether or not I'll be mentally prepared or not for what's to come is one thing, but thankfully, I've made sure that we're at least prepared with making sure the nursery is ready. Here's a list of what we've got stocked up and ready to go.
Diapers
We have used Pampers Swaddlers all along with Lucas and have had nothing but a fabulous experience with them, so we plan on continuing to use them with the new babe, too. I think I've also pretty much decided that I'm going to go ahead with the Subscribe & Save program with Amazon Prime, so I don't have worry about hitting up the store every time I need a new box. It just seems way too convenient NOT to use.
Water Wipes
I actually just bought Water Wipes for the first time about a month ago when Lucas was going through a longer-than-usual bout of diaper rash. Within about two days of using these and restocking up on my Butt Paste (see below!), his rash had finally cleared. So now I'm totally impressed (and also love the idea of using fewer ingredients on the new baby, too).
Butt Paste
I don't think I had heard of Boudreaux's Butt Paste (who is sponsoring this post!) until receiving it at one of my baby shower's with Lucas, and I still remember chuckling at the name (so mature, right?). And all I'll say is thank goodness we did receive it, because it was (and still is) a life saver for us. Lucas has always had fairly sensitive skin, and is known to go through some pretty rough patches of butt rashes.
Whenever it starts really acting up bad, I always make sure that we have some Maximum Strength Butt Paste on hand. It typically helps get rid of his rash within a couple of days (along with making sure his behind is thoroughly dry before putting on another new diaper), and I love how it is made up of safe, simple ingredients; it's paraben-, preservative, and phthalate-free, and contains no artificial fragrances.
How adorable is that shirt, right?!
In addition to the Maximum Strength Butt Paste, there is also the Original Butt Paste (for minor or moderate rash), and All Natural Butt Paste (for minor or moderate rash but made with natural ingredients and is petrolatum free).
I just recently started trying and using the All Natural Butt Paste, and I was pleased to see how well it still worked with being all-natural. Honestly, all three products are amazing and I fully intend to continue using them with the new baby since they've worked so well with Lucas. I recommend it all the time!
Sound Machine
Lucas still uses a sound machine to this day, so we've got a new one for the baby, too. We never bothered with a "baby specific" one – this sound machine has worked great for us since Lucas was a newborn so it's the same one we'll be using for the baby, too. Sleep crutch or not, I swear by them. Even Jay and I like a little noise when we're trying to sleep so I have no problem with them.
Swaddle Blankets
We used these ALL of the time with Lucas and they were great to keep in diaper bags, in different rooms…basically everywhere. Our favorites were the Aden & Anais Muslin Swaddling Blankets, and thankfully, we're already pretty stocked up on them, thanks to our love for them previously.
Onesies – and LOTS of 'em!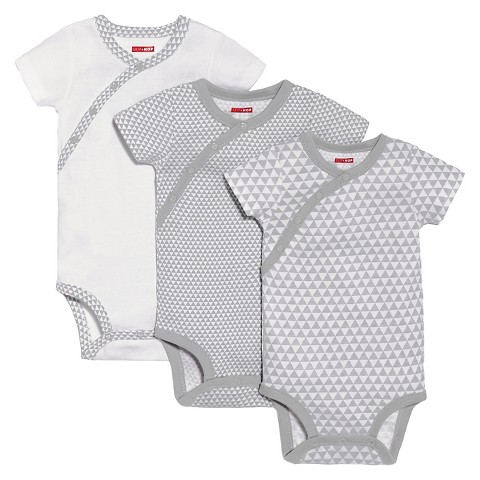 One thing we quickly learned with Lucas is, as adorable as all of the newborn clothes are (they're so teeny tiny!), practicality quickly kicks in and you realize you just need/want something that's quick and easy to take on and off.
Funny story…one of the first nights we were home with Lucas after the hospital, we were both so nervous to put a onesie (or anything) over his tiny head. So Jay ran out to the store to pick up more onesies with side snaps, because that's what he had in the hospital and they were SO easy to take on and off. So I'd highly recommend those in short sleeves and long sleeves!
Humidifier
Lucas has this Cool Mist Humidifier, and we're planning on getting another of the same. It brings healthy moisture to the air without adding heat, and is also filter-free, which is nice (no need to worry about replacing or cleaning old filters). It's always worked really well, and while we could have one, I'd hate to get having to use it in more than one room at the same time. So better to be safe than sorry, right?
Fisher Price Rock n Play
I was originally on the fence with bringing back the Fisher Price Rock n Play, after the difficulty we had with transitioning Lucas out of it. But I think this time around we'll (hopefully) try to get the new baby into the crib sooner. Even though Lucas was in his own room in the Rock n Play, I was always hesitant to lay him flat because he was SUCH a spitter-upper. Fingers crossed the new baby doesn't have this issue (or at least as bad!).
Playtex Diaper Genie Elite
Ohh, the Genie Elite. Thank goodness for that because, well, nobody enjoys the smell of a dirty diaper. We're also trying to build up a little stockpile of the refills, too. Because trust me…it stinks (literally) when you run out unexpectedly.
Blackout Curtains
I bought these thermal insulated blackout curtains originally for Lucas's room, but I love them so much that I got the same pair for the baby. They come in a few different colors and they really work amazingly well at blocking the light. As much as I love the look of sheer curtains in a nursery, I quickly realized that the blackouts are just way more practical; especially since the baby's room gets some serious, direct morning sunlight.
Baby Monitor
We're already all set in this department and will be using the monitor that I reviewed in this post!
**********************
Butt Paste Giveaway
As a mom who, honestly, has LOVED this product for well over two years, I'm so excited to be sharing more about it with you AND having the opportunity to offer you guys a sweet giveaway!
One lucky STSL reader will receive a fun package of Butt Paste products worth more than $35!
To enter, just check out the Rafflectopter giveaway below!
I'll choose a random winner on Monday, May 2nd. Good Luck!
And in the meantime, be sure to check out Butt Paste on Facebook, Instagram, and Twitter, too!
Disclaimer: This post is sponsored by Boudreaux's Butt Paste and The Motherhood. All opinions are my own.