This post is going to be all over the place. Don't say I didn't warn you!
So it's been a few days since I last checked in and, honestly, I'm not sure when I'll be back again this week either. I spent the weekend away having a blast with some of my girlfriends at a bachelorette party in New Hampshire. It was so nice to just spend time with the girls, relax, and not have to worry about any other responsibilities…despite the fact that I knew there was so much waiting for me back at home.
I got home on Sunday, smothered my baby with a gazillion kisses, and then it was back to reality.
Uncle Dan came to visit us too and Lucas was teaching him how to read. Smarty pants.
So that whole reality thing. Man, I'll tell ya…right now I feel like I'm just in a constant game of playing catch up with no end in sight. Sometimes, I like to think that I at least have it semi-together. This week? I'm a hot mess.
Being a working mom can be downright hard sometimes. I mean, don't get me wrong; being any mom, whether you stay at home or work outside the home is no easy task, but I can only speak from my own experience. There are not enough hours in the day to do what needs to be done, and while I've known and accepted this for quite some time now, some weeks it's more apparent than others. This week is one of them.
It doesn't help the fact that our bathroom remodel still isn't done, meaning that the contents of my bathroom are still randomly dispersed throughout our entire house. Everything is cluttered, dusty, and takes 10x longer to find because they've been thrown in one place or another. On the plus side, the bathroom really is looking amazing and should be done by this weekend (fingers crossed!).
On top of that, we've been in a mad dash to get the bathroom done and our house put back together before we have Lucas's birthday party on Sunday. Yes, this Sunday my baby turns one. Now that I think of it, maybe that's to blame for my feeling absolutely frazzled and emotional…?
We had his first birthday photo shoot on Monday night and we discovered that the child doesn't like cake. He legit turned his nose up at it, wanted nothing to do with it, and only wanted Cheerios. I'm starting to question whether or not he's really mine. On the plus side though…that did mean there was an extra cake smash cake to be had by his mama and daddy that night.
So I guess that's really all I have with my ramblings there. Maybe it's coming across super whiney and a little obnoxious…sure, there are certainly worse things I could be complaining about other than a messy house, not having enough time to make real meals, or losing my mind over the fact that my baby is turning one. But ya know what? We're all allowed to be whiney and obnoxious every now and then. It feels good to just get it out there sometimes, admit that I don't have it all together. And I'm sure (at least I'm hoping?!) that I'm not alone. Hopefully, once the craziness of my work week, the bathroom, and Lucas's party subsides, it'll be back to semi-smooth sailing for a little while!
But, since it is Wednesday and all, and this post is already a bit all over the place, why not throw in some highlights of yesterday's eats for a little WIAW.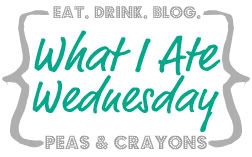 Breakfast was the always delicious PB & banana toast with iced coffee.
Lunch was a ridiculously packed salad with all sorts of veggies and deli turkey.
And dinner was some garlic-marinated grilled sirloin (OMG so good), corn on the cob, and fresh green beans from my dad's garden.
Dessert is yet to be had, but we do have some frozen yogurt in the freezer, soooo…
And finally, I know I still need to do a recap of my hydration challenge with Propel and choose a winner for the giveaway. Once my scatterbrain has an extra second to think, I'll be sure to get that together and choose a winner ASAP. I also feel like I have 101 other things I want to sit and chat with you all about once I find the time. Maybe one of these days soon!
So I shall return eventually…just not sure when this week.