So you guys may remember earlier this week that I had briefly mentioned meeting up with my girls to take care of some bridesmaids duties? Well, we actually headed out to pick out some bridesmaids dresses!
The four of us tried on lots and lots of bridesmaids dresses that night. Rachel decided that we're all going to be wearing the same color, but that we could each pick out our own style of dress. I actually really love the look of that in a bridal party, which is exactly what my friend Joelle did for her wedding last October.
Well, we all lucked out in the sense that we each found a found a dress that we liked, in the same fabric, with nobody doing any sort of fighting over who got what. We're pretty awesome like that. Well, the sales lady ended up suggesting a dress to try out that she told us had *just* been delivered to the store. It was a beautiful, short-length,  satin cowl neck with ruching around the mid-section. I ended up falling in love with that dress and decided to go with it (I'd show you a picture, but it's not even on their website yet). The sales woman took our measurements, our style numbers, and whatever else she needed and then we went up to pay. Everything was fine and dandy UNTIL…I was told that my chosen dress does not come in the color that Rachel has chosen for her wedding. UGHH!
Honestly, I was a little peeved by the fact that the sales woman already knew the color that we were looking for, yet she still suggested this dress. Sort of like how you don't show a bride a wedding gown out of her price range, right? Ok, well maybe not that big of a deal, but still.
So, now I'm stuck back at square one and trying to decide on a new dress. Right now, I'm going between these:
One Shoulder Satin Dress                                  Shantung Off-the-Shoulder Dress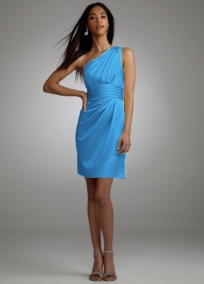 What do you guys think? I'm trying to avoid strapless because, well, I don't have a whole lot on top to keep things held up, if ya know what I'm sayin'. ;)
*****
While I was in the store, I also happened to take some time to check out some of their Special Occasion dresses. Honestly, they had some really gorgeous stuff! Jay and I have a wedding to go to in mid-December (holla, Meg!) so I've been debating on whether or not I want to get myself something new to wear. I have my eye on four different ones…
One Shoulder Charmeuse Cocktail Dress       One Shoulder All Over Sequin Dress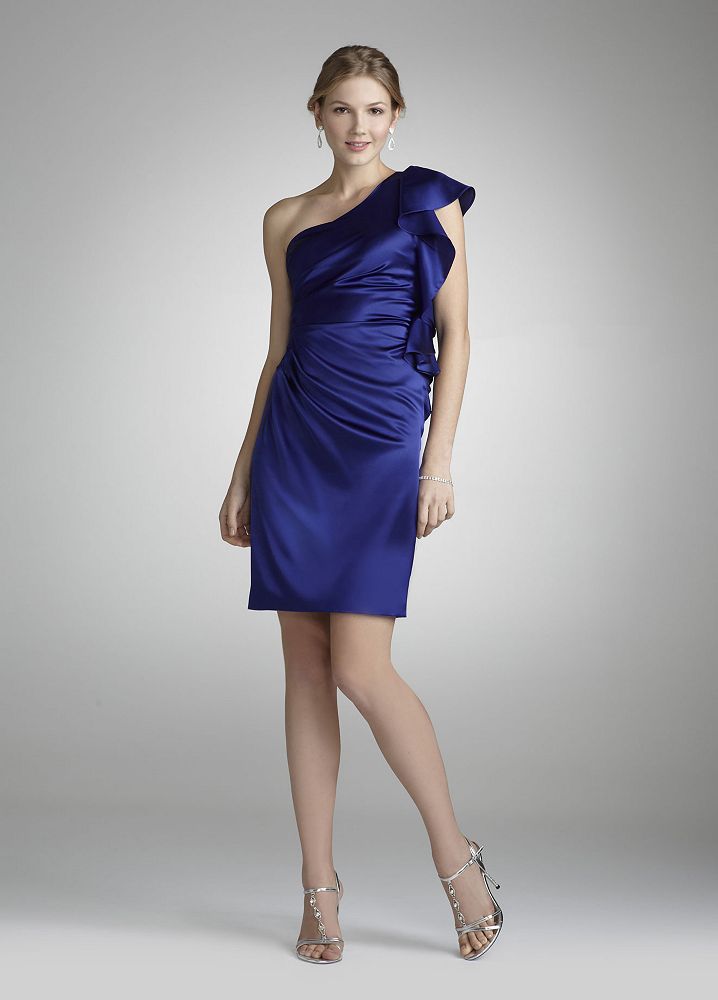 One Shoulder Satin Party Dress                    Draped One Sleeve Ombre Jersey Dress
Apparently I'm all about the one shoulder look right now, huh?
Anyways, I need some opinions. I'm horrible at making decisions, so I'd love to hear what you guys think of these! Are any of them winners? I have a gift certificate that I can use, so if I can actually decide on one, I'm probably going to go for it. Help!
Questions for the Afternoon:
If you're married: What kind of dresses did your bridesmaids wear?
If you're not married: Any thoughts on what kind of style dress you think you'd like your bridesmaids to wear?
"I wrote this review while participating in a campaign by Mom Central Consulting on behalf of David's Bridal and received a gift certificate to facilitate my review."