:) Happy Fashion Friday!! :)
Yesterday evening, while browsing through some old magazines, I came across a section of Fall Fashion Trends that quickly caught my attention.
Some of them were pretty typical, but one immediately made me think of Fashion Friday, and had me wondering what everyone else's opinion on the trend is.
Ok, so what's the trend??……
LEOPARD PRINTS!
As with all trends, there's definitely a way to make it work, and always a way to overdo it. Leopard print clothes do have a strong look that not all us women may feel comfortable in.
The key to wearing these bold patterns is to keep the rest of the outfit simple. Although full head to toe leopard may work for the runway, in real life…it can look a little overdone.
source
Select a single piece of leopard print clothing to be the focus of your outfit. A soft, silky leopard skin blouse worn with a pair of the new wide legged pants in black with a sleek black belt and black suede heels is a look that can be worn anywhere: from the office to a dinner out on the town.
source
For a more dramatic statement, a leopard print jacket in faux fur could be an option. Pair it with jeans or slim black pants, along with a pair of black ankle boots and you're set to go!
Check out Kate Moss's great style!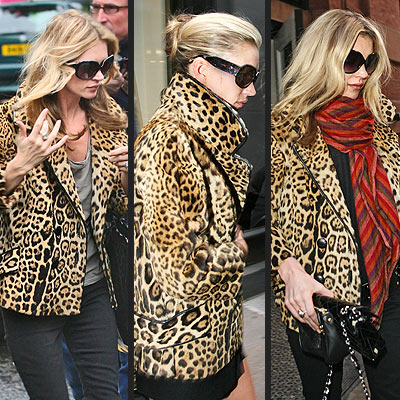 source
Still not quite sure you're ready to sport the leopard print in your clothes? No worries! Designers offer a variety of leopard print footwear and accessories such as bold handbags and wallets. You'll still get to embrace the leopard trend, but with just a touch of the exotic feel.
source
Or, I suppose if you're still not quite ready to sport the look, you could go ahead and incorporate it elsewhere… :shock:
OR, maybe your little pooch will be willing to take on the look! ;)
source
I don't think Cody's quite ready for this! ;)

Alright my friends! So now, let's see what you all think?
Question for the Day:
What's your take on Leopard Print??