I always love a good survey. Especially when it gives you some extra insights into someone that you already love following!
Ever since Julie originally posted this survey a few weeks ago, I've had it in my editorial calendar to put together. So I figured, hey, today is as good a day as any other, right?!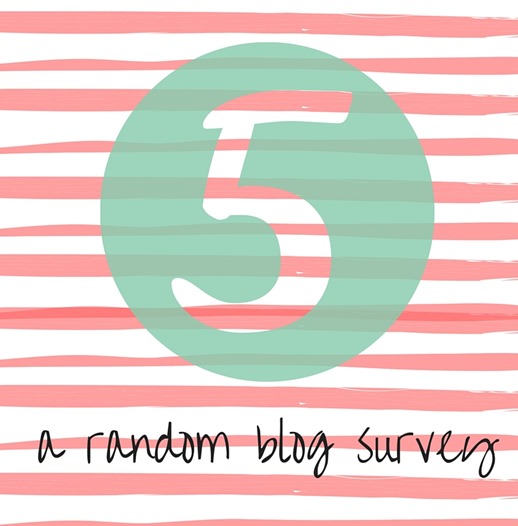 So here we go, and Happy Tuesday!
Five: A Random Blog Survey
Five Places I'm Dying to Visit
Ireland – Jay would also love to go here some day, and I think it would just make for such an amazing trip
Hawaii – Because…Hawaii. Kona coffee, anyone??!
Italy – Ahhhh, how I would looooove to wander the streets of Italy, dining on all sorts of amazingly delicious meals and treats and exploring the breathtaking views I've only been able to see via images online.
The Valentin Imperial Maya, Mexico – Taaaaake. Meeee. Baaaaack. You can read more about the resort HERE and HERE, but we've visited twice and talk weekly about how we're ready to go back. They were some of the best vacations on my life, but I'm sure that's mostly due to the fact that we were in such good company.
Man, how I want to be tan again…!
Australia – I won't lie, the thought of the flight/travel involved to get there is a bit intimidating (not a huge fan of flying), but if I were given the opportunity, I'd absolutely take it. I hear it's just beautiful, and I have a few coworkers from there who are just so nice!
Five Foods I Eat Every Day
We'll say this is lately…because my habits change all the time and this definitely isn't always the norm!
Greek yogurt
Chocolate, in some form or another
Salads
Peanut Butter
Graham Crackers…or we can just say carbs here, too.
Five Talents I Wish I Had
Singing (poor Lucas, he gets the brunt of it)
Photography
Whatever talent my husband has to be able to DIY just about anything I ask him to…
Website Coding (this could save me a LOT of time and money, for sure!)
Graphic Design (I've been dying to redesign my blog header buuuut, I don't trust myself)
Five Healthy Food Bloggers I Wish Would Cook For Me Every Day
Kristin from Iowa Girl Eats
Lee from Fit Foodie Finds
Lindsay from The Lean Green Bean
Jessica from How Sweet Eats (okay, not necessarily healthy, but myyy goddddd her food…)
Gina from SkinnyTaste
Five Instagram Accounts I Love
Targetstyle – They make me want to spend more of my money every. single. day.
HilariousBabies – It seriously is SO funny!
CatherineGiudici – Because I'm still obsessed with her and Sean…
Tank.Sinatra – I have Julie to thank for this one. So many LOL's.
tholiverhudson – Oh Oliver, you are too funny.
Five Things I Wear (Almost) Every Day
My engagement and wedding rings
Daisy by Marc Jacobs perfume
Cozy sweatpants
These fleece lined slipper socks I got for Christmas (LOVE THEM)
Five Songs I Listen To On Repeat
"Uptown Funk" by Mark Ronson ft. Bruno Mars
Downtown" by Macklemore & Ryan Lewis
"Love Song" by 311 (our wedding song!)
"Turn Around" by Flo Rida (one of my FAVORITE workout songs!)
"Don Omar" by Danza Kuduro ft. Lucenzo (this song was played every day both years we were in Mexico, so it brings back such good memories that just make my heart happy)
Five Beauty Products I Use Every Day
Kenra Volume Spray 25 (I've used many hairsprays in my day, but this one has been topping the chart for a while now)
NARS Bronzing Powder in Laguna
Olay Complete for Sensitive Skin (I've been using this for years – can't beat moisturizer and SPF in one!)
Cover Girl LashBlast Volume Mascara in Very Black
Makeup Forever Ultra HD Concealer in #340
Five Movies I Can Watch On Repeat
Love Actually
Ace Ventura Pet Detective (pretty sure my brother and I can quote this entire movie…)
Ocean's 11 (actually, all of the Ocean's movies for that matter)
Pitch Perfect
Elf
Five Books On My Current Reading List
Oh Crap! Potty Training: Everything Modern Parents Need to Know to Do It Once and Do It Right – I'm honestly in no rush to get this going, but I know we've got to start soon because I don't want to tackle it with a newborn in the house!
The Best of Me by Nicholas Sparks – I borrowed this from my mom months ago but haven't gotten very far (aka, past the first page)
Sadly, I don't really have much bigger of a reading list right now…finding time is tough! But…do these count? Because I read all of these at least 1-2 times a day.
Five Random Things I Ate Yesterday
Big bowl of blueberries
Love Grown Foods Hot Oats with extra peanut butter
Leftover salad from Sunday's dinner for lunch
A couple bites of my favorite chicken salad that I put together last night to have for the week!
So let's hear from you guys! Pick a topic above and share your 5!!