1. Friday the 13th!! Where are all my superstitious peeps at out there??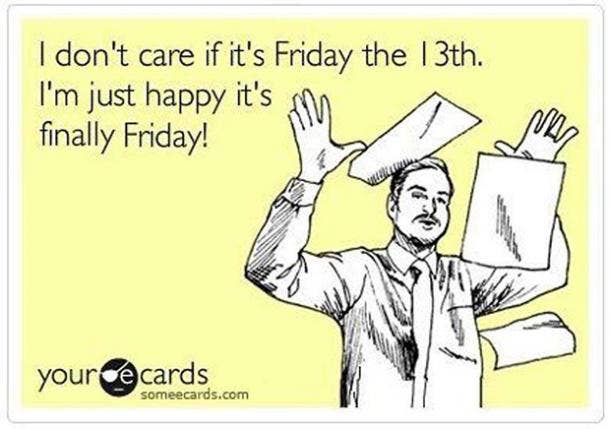 2. Our fabulous neighbor and her daughter make a mean chocolate chip banana bread, and she was kind enough to gift us a loaf last week. We'd been picking at it here and there, and the loaf was pretty close to being gone, but wouldn't you know…I go out into the kitchen one evening to get some dinner ready and look what I find…
Alex had gone ahead and swiped the banana bread right off the counter, hid behind the island, and took to finishing it. I mean, I couldn't even be mad because it was pretty darn cute.
This kid is a hoot!
3. Speaking of kids…did you guys hear that Stitch Fix has just introduced Stitch Fix Kids??
The new Stitch Fix Kids includes sizes ranging from 2T-14, and each Fix will include 8–12 items personalized to each kid's sense of style and interests (you fill out a style profile for them the same way you do yourself!). You can also set your preferences on prices, which range from $10–$35 per item. I'm really excited and actually just signed Lucas up for a fix to get him ready for KINDERGARTEN in the fall (wahhhh!).

I figured I'd see how things go with Lucas's fix, and then decide if I want to give it a try for Alex. But I do like how you don't have to sign up for automatic fixes (which I did), so you're not committing to any sort of subscription. I'll definitely be sure to report back with how it turns out once we get it!
4. We made our Cheddar Bacon Ranch Chicken Burgers for dinner earlier this week and I forgot just how friggin' GOOD they are. I actually think they may be my favorite of all of our chicken burger recipes(!!) so if you need an idea for dinner coming up, put these on your menu!
5. For those of you who appreciate a good meme, here are a couple that had me laughing out loud this week, so I just had to share…
OMG that second one gets me every. time.
6. Ohh, have I mentioned? We are headed to the BEACH today!!! It's time for our annual family vacation with my parents and brother, and I am SO excited to have some time away with the fam. I did a little bathing suit shopping last week and made out really well at JCPenney (which I always seem to there!).
Pictured, from L to R: Arizona Midkini Swimsuit // Liz Claiborne Paisley One-Piece // (Can't find that black top online, sorry!) // Arizona Floral Tankini
I also picked up a couple new bottoms from Target because they're my favorite (specifically THESE and THESE), so now I'm ready for some sand and sun!
7. As the person who takes the majority of the pictures in the family (thanks to this little blog right here!) it's very rare for me to have pictures of me and the boys just "in the moment," if you will. Sure, I'll ask Jay to take some pictures here and there, but it's the unstaged, "living life" pictures that are actually my favorite. So when Jay sent me this picture that he had taken the other day, I was just in love with it.
Nothing fancy, no perfect smiles, but just a little snapshot of us. More specifically, of me laying down with Lucas for some "quiet" time, when Alex decided to climb up on the couch and declare otherwise. I remember it well, and now I love that I have it captured. So, ahem…if you're reading Jay, these are my favorite <3 <3
8. AWESOME PRODUCT ALERT!! Eye Wonder by MONAT.
My girl Morrisa (you guys remember me raving about her???) was kind enough to send me a sample of Eye Wonder, which is a a lash and brow enhancing serum. I'm sure many of you know of other products on the market which are geared towards growing your lashes, but I loved the idea of this one because it helps boost volume and grow MORE lashes/hairs, as opposed to just lengthening those that you already have like other products do.
I truly wish I had before and afters to share with you, but I'm lame and never did it. But I WILL tell you that I have 100% seen an improvement in the new growth of my lashes (preferably, I'd take more volume over length any day, and did not have good results with other serums in the past) and I just love it. I simply apply a little along my lash line at night before bed (and sometimes in the AM before applying my makeup for the day) and that's it. So for any of you who may be in the market for something like this, I'd highly recommend reaching out to Morrisa and giving it a try. It's. Awesome.
You can reach her via…
Direct Message on Facebook (HERE!)
Email (morrisareynolds at gmail dot com)
Or check out her awesome Facebook group, Bird's Nest!
9. Alright friends, I'm going to wrap things up here for today. Be sure to follow along on Instagram to see what we're up to on vacation next week! : )