Iiiiiiit's Fridayyyyy!!
I honestly didn't have any sort of a post planned for today because I haven't taken all that many photos over the last 24 hours. Yesterday was a long day…I didn't wind up getting home until about 6pm, and then still wound up working through my phone via emails for another good hour. After a quick meal of leftovers and catching up on a couple shows from the DVR, I called it a night.
BUT…today is a new day, it's Friday, and I actually have quite a few random thoughts in my head this morning, so I figured I'd go ahead and share. I guess you could say it's almost like one of my tangents posts, except I'm totally taking on Chelsey's fun facts friday post idea and going with that.
1.  Today, I am officially 6 months pregnant. SIX MONTHS. How in the world did that happen?!? Baby Tooth continues to grow and make his presence known everyday and I just love it.
2. Speaking of Baby Tooth, you may or may not have caught the most recent post on the Baby Tooth page from yesterday!
I'm giving away a $50.00 gift card to For Two Fitness so be sure to check it. But I also forgot to mention that in addition to the giveaway, I also have an exclusive coupon code to share. Enter the code SWEETTOOTH at checkout, and you'll receive 20% off your entire purchase! Coupon code is good until June 30th, so be sure to take advantage!
3. This morning, I managed to get up and get a workout in. I found myself in the mood to switch things up, so I decided to break out my 10lb. Slimdown DVD. I did the 20 minute full  body session and then followed it up with the 20 minute yoga session….ummm, yeah. The yoga session? That was humbling. Don't think I'll be attempting that one again until after the bump is outta the way. Yikes.
4. This morning on my way in to work, I was listening to one of our local radio stations (Fly 92.3). For the past couple of weeks, they've been doing this thing with random songs and playing donkey noises as part of the lyrics. I have not found this at all funny…until today. Yeah, today it was freakin' hilarious. I laughed so hard I cried in the car. Cracked. Me. Up.
5. Also on my way in to work this morning, I wound up with a huge craving for iced coffee. Thankfully, I had a few extra minutes to spare in my commute, so I made a pit stop…
and I paid for that bad boy entirely with coins. Awww yeeeeahhh.
6. This weekend, Jay and I have plans to paint the nursery. We have our paint colors picked out and are ready to rock and roll. I also think I may have possibly found a bedding set that I like. Of course, it's at Pottery Barn Kids and costs twice as much as the other ones I liked before. Ohhh, what to do, what to do.
7. Jay and I have a little obsession. You may have heard of her, too. Her* name is Grumpy Cat (actually, her real name is Tartar Sauce, another fun fact). And it turns out, Grumpy Cat has a brother named Pokey, who is hardly as grumpy looking as his sister*.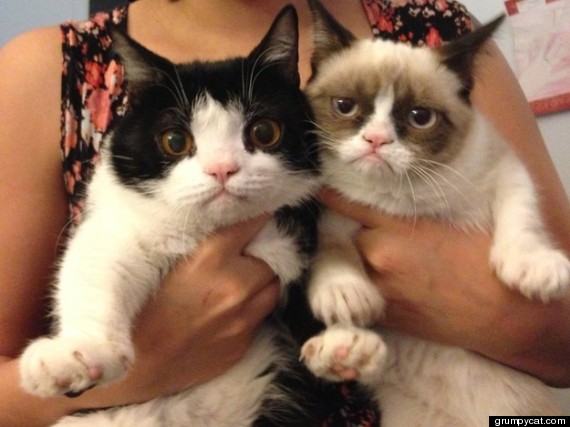 *Jay had to remind me that Grumpy Cat is actually a girl. Whoops.
Aren't they the cutest? Can't get over them.
8. A couple days ago, our friend Mal posted a photo on her Instagram of homemade stuffed shells. Jay found it first and clued me in. She was super smart and even posted the recipe she used too. Any guesses what we're having for dinner tonight?
Oh yes. Stuffed shells it is. Thanks, Mal!
9. Sunday is Easter…already. Crazy! Jay and I will be heading to his aunt's house for brunch, and I've been asked to make dessert, so I'm thinking I might make my Triple Lemon Cupcakes.
After brunch, we'll be heading to my parents' house for dinner, where we'll be dining on your typical Easter meal. You know, Italian….oh wait, what? Italian food isn't standard on every holiday? Well, it seems to be in our family. ;)
10. I've eaten pizza twice this week, along with cheeseteaks, and wayyy too many cookies. So much so, that the thought of cookies right now just sounds gross. So far this morning, I am craving nothing but eggs and salad. Unfortunately, I didn't have time to make the eggs happen, but I do have a salad packed up for lunch. Time to get some of the good-for-me stuff back in the rotation.
Alright, that's all I've got, my friends! Hope you all have a fantabulous Friday and a wonderful weekend! :)