Okay, so I have had the most random memory in my head all morning…
While I was getting ready for work earlier, I was watching the news and heard the story about how Annette Funicello has passed away. Of course, hearing any news that someone has died is always a sad thing, but even after the story was over, I could not get her name out of my head. And then I realized that everytime I was saying her name in my head, I was saying it as "Annette Funny-Jello;" and then it dawned on me…
I was remembering the episode of Full House (wayyy back in 1991) where she and Frankie Avalon were on!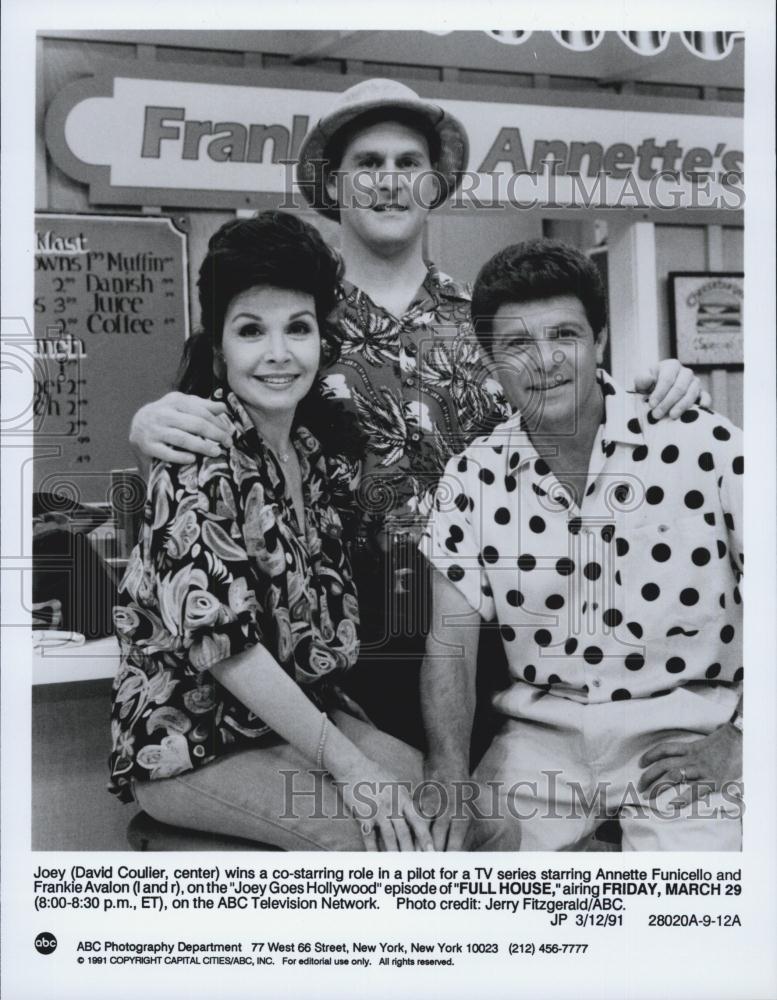 source
Joey was getting the chance to be on a TV series with them and Michelle kept calling her Annette Funny Jello. Pleeeeeease tell me that someone else remembers this?! I know I'm not the only former Full House fan out there!
But anyways…I told you that was random, right? ;) Moving forward…
Let's talk about last night's dinner because ohhhhh was it awesome.
Check that out…I'm eating veggies. And lots of 'em too! Admittedly, veggies haven't been at the top of my list these days, but last night there was nothing that sounded better than a big, veggie-filled salad. By the time I got home from work, Jay was already home and chopping up some of the veggies which totally made the salad a gazillion times better. You guys know what I mean!
My salad was filled with lettuces, cucumber, tomatoes, carrots, red onion, red bell pepper, pickles, cheese, dried cranberries, leftover garlic chicken from Sunday, and a couple croutons. Jay also decided to throw a random tortilla strip on there, in case you happen to spot that. What a goober.
On the side, I heated up a couple pieces of TJ's naan for the two of us, and topped them with some of this garlic cheese spread stuff that we have. It's delicious.
A couple of hours later, the two of us were in the mood for a little something sweet, so we broke into our favorite after-dinner treat from the past two nights…
Yes, that would be Trefoils girl scout cookies topped with TJ's cookie butter. I opened this jar up over the weekend, and Jay has suddenly become obsessed. Not that I blame him…the stuff is UN-believable. We each enjoyed a few cookie butter topped cookies before tucking them back away in the pantry for the evening. It definitely would not be hard to go overboard on those!
The two of us spent the rest of the evening lounging and watching The Voice, and I must say that I am really loving Shakira and Usher on this season. The four judges feed off of each other so well and they are just downright funny if you ask me. We also had a few good laughs at Baby Tooth, who was very obviously making his presence known last night…we had a blast watching my belly move and seeing him kick and jump around in there. I swear, at one point he must have done a full flip…I think he liked the cookie butter too. ;)
Speaking of which…the Baby Tooth page was updated this morning!
Question for the Morning:
Were you a Full House fan back in the day? What were some of your favorite 90's shows?
I know I won't even be able to get them all here, but immediate ones that come to mind: Boy Meets World, Family Matters, Saved By the Bell, 90210, Home Improvement, The Fresh Prince, The Wonder Years (mostly because everyone told me growing up I looked just like Winnie Cooper), Step By Step, Blossom.