I just couldn't help myself this morning…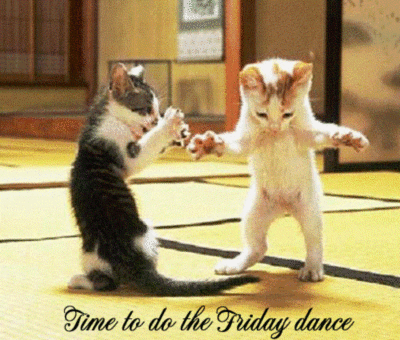 That Friday dance gif will never, EVER get old.
Happy Friday! How's everyone doing today? I'm obviously super stoked that it's Friday but honestly, this week actually went by pretty quickly. Jay and I had something going on every night this week, which kept our days busy and moving along quickly. Plus, I guess it doesn't hurt that there was a birthday thrown in there too!
So let's see…where did we last leave off? Well yesterday after work I had another dress fitting appointment which was nice because Mal (the almost bride-to-be!) and Denise were there so I got to chat with them for a bit. But besides that, the appointment was pretty awful. In the past three weeks, I've apparently grown two more inches, which I know growing is to be expected, but two inches? That was a bit of a shocker. I mean, it is what it is, it's gonna happen, but I think what got me more than that was the boatload of a price tag I got for the alterations they need to do. It's costing me almost as much as the dress itself. Good lord…why are they so darn expensive?!
I've already found myself being a bit extra emotional this week, so I called my poor mother on my way home and cried it out for a bit with her.
I know, I'm a mess. I admit it. And so does Jay. Darn pregnancy hormones ;)
But hey, after a little pep talk from mom I was feeling better; I came home, ate some leftovers for dinner, watched the rest of Monday night's bachelor (so long, Amanda!) and Tuesday night's Cougar Town (LOVE that show!) and spent a bunch of time on Pinterest browsing for Baby Tooth…all of which made me feel muuuuuch better. Sometimes, you just need to veg.
*****
This morning, I was up nice and early for a workout. It never wound up happening last night, but that made me extra motivated to get up up and moving today.
I'm also inserting this old photo into the post just because there seems to be a whole lot of words this morning and not enough visual stimulation. If you're anything like me, you need some photos. ;)
Today's workout consisted of 20 minutes of walking intervals on the treadmill, followed by 2, 10-minute segments of my new prenatal pilates DVD. I would have done another had I had time, since I'm totally loving that DVD, but I'd hit the snooze button twice so I was already pressed for time. Whoops.
As I was getting ready for work, I got it into my head that I needed a coffee from Dunkin Donuts this morning. Specifically, a decaf coffee mixed with half a packet of hot cocoa (an old favorite!). I have a DD's on my way to work, but I had to make sure I gave myself a few extra minutes to leave the house and get to work on time. Well, today the coffee took top priority and breakfast was literally whatever I could throw into my purse quick as I was walking out the door. But hey, it works!
I have some granola packets here at work (along with about a bajillion other desk snacks) so I'm pretty sure I'm not going to go hungry. ;)
Question for the Morning:
Hey, it's February! What are you most looking forward to this month?
For me, I'd have to say Mexico and Brian & Mal's wedding. No question about it!