This morning, I spent some time doing a little bit of housekeeping on the main blog page here, so you may end up noticing a few differences. I also updated my "Featured Recipes," which include three of my favorites from 2011. After that, I ended up wasting about 10 minutes laughing WAY too hard at funny New Years Eve pictures. Don't ask me why…I really have no idea.
Some of them are not exactly appropriate to share (there are some ca-raaaaazy peeps out there!) but some of them were rather amusing. This card in particular totally has my name written all over it…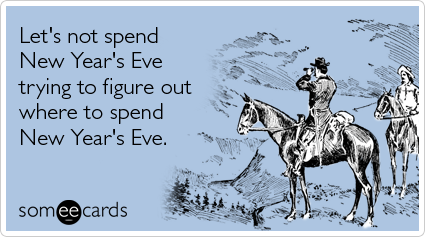 I feel like we (as in Jay and I) are always such last minute planners. Not necessarily when it comes to bigger events like NYE, but definitely for a typical Friday night. We'll spend a good hour just trying to decide what to do for dinner and then spend another hour figuring out if we want to make it ourselves or go out. Oy vey. Perhaps a resolution of mine for 2012? ;)
Some other funny ones I came across…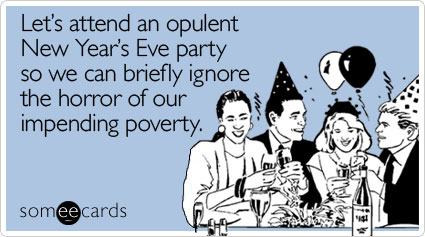 That someecards site totally cracks me right up! :)
Lunch
This morning when I was putting together my lunch, I was *this close* to making myself some sort of yogurt mess. It sounded good, but not as appealing as it usually does. But then as I was grabbing something else out of the fridge, I spotted all of my leftover spaghetti squash from Tuesday's dinner.
How in the world could I have forgotten about (let alone missed) the two huge containers of it staring right back at me from my top fridge shelf? Sometimes I wonder…
I portioned out a big 'ol serving of spaghetti squash and topped it with some shredded carrot (random?), steamed spinach (almost half of a bag!), some shriveling grape tomatoes, marinara sauce, and a wedge of The Laughing Cow Light Swiss Cheese.
Once it was heated in the microwave and the cheese got all super-creamy on me, this meal turned out to be one big 'ol bowl of awesome. I also ended up snacking on an orange and some Pretzel Crisps.
*****
I still can't believe that Jay and I already have our dinner plans figured out for tonight (homemade pizza). Now I've just got to decide on a Redbox movie. I'm going back and forth between 3 different ones…all of which are total opposites:
Yeah, what can I say…I like it all. ;)
Has anyone seen any of the above movies? What would you recommend??