All that hard work with mowing the lawn paid off…I got my date night!
Yesterday, shortly after Jay got home from work, we headed out to enjoy our "gift card date night." I can't tell you just how excited I was to realize that we still had about five different gift cards left over from Christmas…here I was thinking we'd already used them all.
Can you guess which one out of the four listed was our spot of choice last night?
Well, considering we don't even have an On the Border or a Maggiano's near us, and neither of us felt like having Italian, that just leaves one spot left…
Aaaand that would be the one that offers 2 for 1 draft beers.
Chili's was our spot of choice last night, and we both started off with some 2 for 1 beers – there wasn't a huge selection so I went with some Blue Moon.
For it being a chain restaurant, which Jay and I typically tend to avoid (we definitely had our fair share while dating throughout high school), we both enjoy Chili's. The beer is always cold, the food is good, and the prices aren't too bad either. Neither of us had been back since visiting with Joe & Kate last October, so it was a welcomed choice.
We started off with some chips and salsa.
I was pretty impressed with my ability to take it easy on these, but it wasn't easy.
For dinner, I ordered the "Lighter Choice Chicken Santa Fe Wrap" which came with a side of roasted broccoli.
I wasn't really sure what to expect, but this wrap was pleasantly delicious. I especially loved the roasted corn and avocado chunks, and I loved how it wasn't drenched in dressing. Definitely a good choice.
After dinner, we concluded date night the best way we know how…
With an orange and vanilla twist with rainbow sprinkles from The Snowman. Gosh, I do love me some rainbow sprinkles.
*****
June Yoga Challenge – Week 1 Recap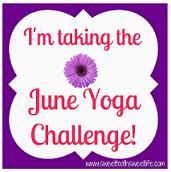 We've already made it through our first week of the June Yoga Challenge. Can you even believe it? I'm so excited to hear how you've all been doing on your own challenges, but first, here's how things have been going so far over here.
My Challenge: Do 3 yoga sessions for the week
Actual: 4 yoga sessions done since June 1st
So far, things are going great with the challenge. I'm loving all this new yoga in my life, and I'm already finding myself looking forward to each session. I didn't totally love the class that I took at my gym during the week, but I did enjoy actually doing it in a class setting, rather than at home with a video.
I ended up talking a bit with Jen, who I've gone to yoga with before, and she was telling me about a local place named Good Karma Studio. Apparently they're offering a few free classes for the month of June, so I'm really hoping to be able to go and try some of them out.
Overall, I'm still loving the challenge. Physically, I haven't felt or seen too much of a difference, although my hips were pretty sore after doing Jillian's video on Wednesday. Mentally, I'm totally on board. I don't mind that I'm not sweating buckets like I would if I were running on the treadmill. I love how I'm still feeling strong and lengthened after a session.
I think this challenge is exactly what I needed right now in my life!
But alright, enough about me…let's hear about how all of YOU are doing on your challenges. I had one reader without a blog send me her update…
Kattreena – "My main goal for this challenge is to listen to my body more. In the past, I would often skip yoga because I felt like I needed to strength train more or do more cardio. Recently, I've been doing yoga at least once a week, and I have found that my body loves it! I absolutely love how I feel after the class! I just want to get back into loving what I'm doing for fitness rather than feeling that I have to do something or skip something because other exercises are more important. Today I did an online Power Yoga video for 30 minutes."
Now, for those of you who wrote about your Week 1 recap on your blogs, let's see how it's going!
[inlinkz id = 1]