Oh my gosh, last night was such a great night.
Jay and I had a softball game (yes, one that actually didn't get rained out, woo hoo!) and it just ended up being one of those nights where everything is so stinkin' funny. I seriously love my entire softball team to pieces. We've been together for 6-7(?) years now I think, and it's something I look forward to every year.
Last night's game was actually rather boring on the competitive front (our team won via the mercy rule of 20 runs after 5 innings) but I had a serious case of the giggles for at least a good half of it. Between screaming at fly balls…
heckling the batters behind the plate, and just finding everything else funny, it was fantastic. I hadn't laughed like that in a long time and I needed it.
*****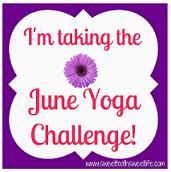 We're already through week two of the June Yoga Challenge, friends! How did the week go for you? I'm excited to read about all of your own recaps again and see how you're adapting the challenge to suit your own needs. Here's how things have been going so far over here.
My Challenge: Do 3 yoga sessions for the week
Actual: 4 yoga sessions done, with one more planned today = 5!!
You guys, I am falling in love with this challenge more and more.
I'm thankful for the fact that I have so many different yoga DVD options here in my own home so I can keep a variety in my practice. Some days, I really love a slow, steady session. Other days, I crave more of a Yoga Meltdown style. But no matter what I do, I feel great by the time I finish.
I've noticed that some of my down dogs are getting a little deeper now, and I feel like I can work through a chaturanga to upward facing dog much easier than I could before. I even feel like I'm getting slightly better with my breathing, which has always been a challenge of mine.
Next week, I have plans to try a free hot power fusion yoga class at Good Karma Studio with Jen and I'm really looking forward to that. It's been ages since my last hot yoga experience and I honestly don't remember all that much about it except for the fact that it was probably the most I'd ever sweat…ever.
Overall, things are still going great with the challenge! So much so, that I'm feeling inclined to try to persuade even more of you to join…
So today, I'm giving two readers a chance to win a yoga DVD 3-pack from Acacia!
Each winner will receive a bundle of the following DVD's:
This giveaway is open to everyone (whether you're in the challenge or not), so to enter, leave a comment on this post telling me why you would like to win these yoga DVD's.
I'll choose two random winners on Sunday, June 17th.
But now, for those of you who wrote about your Week 2 recap on your blogs, let's see how it's going!
[inlinkz id = 2]