Happy Fridayyyyyy! How's everyone doin' this morning? We've got some yoga talk to get to, so let's quickly whiz through breakfast.
Today was a cereal kinda day. Quaker Oatmeal Squares, Cascadian Farms Purely O's, blueberries, banana slices, and unsweetened vanilla almond milk.
Those Quaker Oatmeal Squares man…they're probably another food that would be up there on my "I've started and can't stop" list next to yesterday's animal crackers. They're just so darn scrumptious.
*****
Alright, it's Friday, so you know what that means!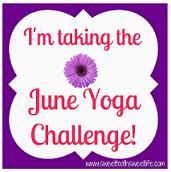 Three weeks in to the June Yoga Challenge. Good lord, is June flying by or what? Unfortunately, this week didn't go so well for me…
My Challenge: Do 3 yoga sessions for the week
Actual: 1 yoga session done (certainly not as great as last week)
I felt like my schedule has kind of been all over the place this week, and some of my "planned" times for yoga ended up getting messed up. For example, the yoga class I was really looking forward to last night. I wanted to go in the worst way, but I couldn't let my softball team down…
I may have sweat my face off, but we did win!
I'm not quite sure what little bro is doing here…
But anyways, back to the yoga. The session I did do this week was great; a 40 minute core strength video from my Yoga Bootcamp DVD. Even though I didn't reach my goal, I'm certainly not loving yoga any less; in fact, I'm still craving it like crazy. I think I'm just going to have to chalk this week up to bad planning and bad timing. Hey, it happens, right?
Next week, I'm going to attempt to up my goal to 4 sessions. I'd really like to do another video or two from mybarre3.com, and possibly take a class somewhere if my schedule allows. I may still try to get another session in today, but I have a feeling it's unlikely, since I do have plans for a slightly different form of relaxation…
I bought this Living Social deal a couple of months ago and am so excited to cash it in today. I'm opting for the 45 minute Swedish massage + 15 minute reflexology. I've always wanted to try reflexology but I'm a little nervous I might end up kicking her since my feet are a tad on the ticklish side.
So since this is week 3 of the June Yoga Challenge, let's see if any of you guys did better with your challenge than I did. Go ahead and link 'em up here (you'll get yourself an extra entry into the giveaway for the Aurorae yoga mat) and let's cheer each other on!
[inlinkz id = 3]