Hey folks! Hope your weekend is winding down nicely and that you've been having a blast like I have.
You know, I didn't really mention it earlier, but I forgot to say just how excited I was to get that extra hour of sleep last night. I swear, sometimes even just that one little hour makes a world of difference!
Unfortunately, I forgot that along with that extra hour comes the 5:00pm darkness.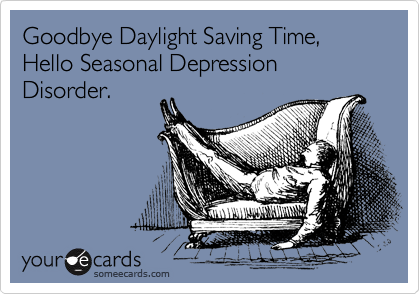 source
I have since been totally thrown off and feel like I should be crawling into bed right about now. I wouldn't go as far to say that I get depressed when the seasons change, but I definitely do feel the effects of it. What can I say – I like my sunlight!
*****
This afternoon, Jay and I had some homeowner-ish responsibilities to take care of, including a trip to Home Depot. We picked up some new trim to finally finish up some minor details in the kitchen, along with a new front door.
We've had our eye on this door for a while now, and noticed today that it had dropped in price for the second time. It was officially time to sweep in for the purchase!
Whenever there's a trip like today's involved, there's almost always a fun caffeinated beverage to accompany me. I made a quick pit stop at Starbucks on our way there and picked up a Skinny Peppermint Mocha.
Unfortunately, it seems as though I just cannot enjoy the peppermint mocha anymore. As much as I loved it at the beginning of the season last year, I just can't seem to stomach it after the whole sickness incident last year.
It was one of the last things I had consumed and now that's all I can associate those flavors with. Blech! It's such a sad thing, too, because I still have a really hard time thinking about eating one of my favorite Thanksgiving-leftover sandwiches. Hopefully I'll get over that one because that is one hell of a sandwich!
*****
The rest of the afternoon consisted of some grocery shopping, some dancing for joy over our Jets victory (WOOT!), and a quick and easy dinner of soup and toast.
I came across a leftover batch of my favorite, homemade Minestrone Soup in our freezer this morning, so I took it out to thaw for tonight's dinner. I honestly cannot tell you how much I adore just thawing out leftovers. I really need to do this more often.
On the side, we finished up the rest of our Garlic & Rosemary bread, toasted with a little butter.
Just check out those chunks of garlic!
Hey, at least we're both sportin' the garlic breath at the same time, right?
Now I'm hoping to get in a good solid hour or two of studying before calling it a night. Hope everyone had a great weekend!
Questions for the Evening:
What do you prefer for daylight savings time: "falling back" or "springing ahead?"
Do you have any aversions to certain foods because of a past incident/illness?