Can I just say how much I am loving on this little boy right now?
It was almost bedtime…that's when we get crazy with the no pants parties over here.
Okay, obviously, I've loved him all along. But over the past couple of weeks, he has just been boggling my mind with the way he's soaking in information and seemingly understanding SO much more by the minute! He's got a sassy little smirk that he loves to show off when he knows he's doing something wrong, which – can I just say – is SO hard to not smile at?! He was actually about to give me the side eye in that photo above because he was getting ready to reach for the lamp chain. Little stinker.
I don't intend on writing monthly updates for Lucas through this next year, but I'm going to check in every few months or so, because I can only imagine how many new things he'll be doing a month from now…or even a week from now.
Lately, one of his favorite things to do is most definitely eating with a fork…and much to my surprise, he can actually do it.
Granted, he's no pro, but he can manage it. And when he gets frustrated, he throws his arms in the air (photo #2 above) and just goes at it with his hands (photo #3).
Some other fun favorites of his these days? Anything that opens and closes (especially the microwave, closet doors, and the my glasses case), anything with buttons (hello, iPhone being his favorite thing ever), imitating our sounds and hand gestures, dancing (omg I cannot stand the cuteness), and vacuuming.
Yes, vacuuming.
Lucas has always been fascinated by the vacuum, but now he actually wants to help his daddy anytime it comes out. He pushes it along and pulls it back, and is in his glory the entire time. We'll just say he definitely takes after his daddy on this one.
***********
So now I'm going to completely switch gears and finish up with a little WIAW because, well, it's Wednesday.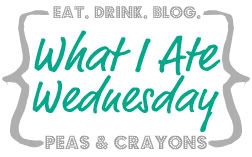 Here's some goodies from yesterday…thanks, as always, to Jenn for hosting!
Breakfast
One of my favorite go-to's for when I don't give myself enough time to pack a breakfast: Starbucks Spinach, Egg White, & Feta Wrap with a grande iced coffee.
But if I'm being honest…I prooooobably had enough time to pack myself breakfast yesterday morning. I just really wanted one of those darn wraps.
Mid-Morning Snack
Hey, you guys aren't surprised by this one, are you?
I absolutely eat peanut butter and bananas at least 5 days a week, if not everyday.
Lunch
Again, nothing too new, but I did decide to add a few newbies to this salad.
Amongst the usuals were some strawberries, deli chicken, and sliced almonds, which all really gave this salad a fun, unique twist and taste. Gotta love that sweetness from the berries and the extra crunch from the almonds. What are some of your favorite salad toppings these days??
Mid-Afternoon Snack
A couple of hours after lunch I found myself craving something sweet, so I dug into my slice of banana bread.
This was my other weekend baking adventure and, I've gotta say, it's making its way to the top of my favorites list! I've gotta get this recipe to you guys ASAP.
Mid-Afternoon Snack
Shortly after I got home from work I needed a snack, so I snacked on a couple handfuls of these Blue Diamond Almond Nut Thins.
I just bought these for the first time last week and I am obsessed with them. SO good.
Dinner
You GUYS. This dinner? We're talkin' bacon…baked with brown sugar. Hell. Yes.
At the recommendation of my boss, actually, I decided to try baking our bacon in the oven with some brown sugar sprinkled on top (I did 400 degrees for about 20 minutes). My lord, it's a game changer. And it makes one heck of a BLT.
BLT sandwiches and side salads were the name of the game and they. were. heavenly.
So if you take away anything from this post, take my advice and try this bacon. Okay? Promise???
Dessert
I haven't had anything yet as I'm typing up this post (it's Tuesday night) but I wouldn't be surprised if some ice cream makes its way into mah belly.
Alright, I'm outta here! Make it a great one, my friends!