Thanks to Duncan Hines for sponsoring my writing. There's no limit to the baking possibilities, so grab your favorite Duncan Hines mix and Comstock or Wilderness fruit fillings and Bake On! www.duncanhines.com.
'Tis the season for sweet treats and yummy cocktails, right? I know, I know…I feel like it's a topic I've been bringing up incessantly for the past couple of weeks. But today, we're going to switch things up a bit. Rather than talking about how to keep them at bay or try to avoid them, tonight…we're going to embrace them!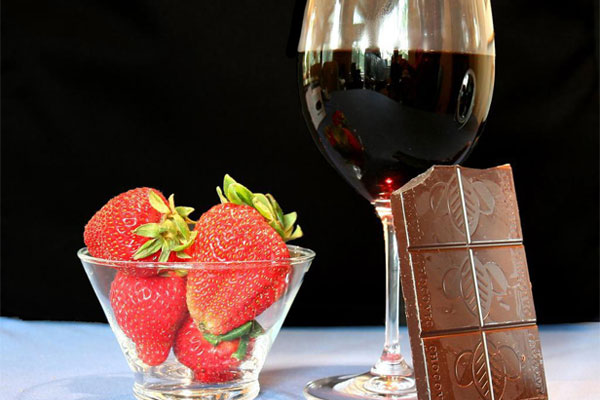 Now I'm no wine-o. I love drinking it, but I hardly know much about it. I wish I did; that way, I could look a little less like a scatterbrain every time I walk into a wine & liquor store.
So I started doing a little investigating to see how to best pair certain wines with my all-time favorite course: dessert.
First, I found out that there are three factors to consider when choosing a wine:
acidity (an acidic wine may pair best with a fruit dish, which also has natural acidity)
intensity (the more intense the dessert, the more intense the wine)
sweetness (a dessert wine should be sweeter than the dessert itself)
I also found out the general rule that as the colors of the dessert get darker, the wine gets darker. This actually made total sense, since this is one of the things that I learned last year when Jay and I attended a wine and chocolate pairing. (<– Best thing EVER).
So most desserts will usually fall into one of three categories (I know there are more, but for the sake of keeping things simple here, we're stickin' with three):
Custard & Vanilla
Fruit & Spice
Chocolate & Caramel
Below, you'll see some ideas on wines that will pair best with each of these categories…
Custard and Vanilla
source
Flavors (in the wine and dessert) are usually mild, light, and buttery.
Suggested Wine Pairings: White wines (such as my beloved Riesling), sparkling wines (like champagne), and Asti Spumanti (a sparkling white, Italian wine).
Fruit and Spice
Apple Crisp, anyone?
Flavors (in the wine and dessert) are usually something such as apples, pears, and cinnamon.
Suggested Wine Pairings: Pink champagne, white wines, such as Sauternes (a French sweet wine) or a late-harvest Gewirtztraminer.
Chocolates & Caramels
Ahhhh, my favorite – Oreo Truffles!
Flavors (in the wine and dessert) would be dark, buttery, caramelized, and rich.
Suggested Wine Pairings: Red wines (like late-harvest Pinot Noir or Shiraz), port wines (a classic chocolate pairing), and Grappa (which I learned is an alcoholic, grape-based brandy – who knew?!).
So now, maybe you've learned a little bit more about pairing wines with desserts like I did? Or maybe this is old news for ya? Either way, I don't know about you, but now I am craving some chocolate and a glass of wine like it's nobody's business!
Question for the Evening:
Do you know much about wine and how to best pair it with certain foods?
If so, feel free to weigh in (and/or let me know if I was totally off the mark on anything). ;)
Remember to check out Duncan Hines' website www.duncanhines.com to find some great recipes for your holiday get-together! I was selected for this sponsorship by the Clever Girls Collective.