Alright guys and gals, I'm kind of excited this morning. If you've been reading healthy living blogs for a while, then I'm sure you're probably already aware of the phenomenon that is What I Ate Wednesday.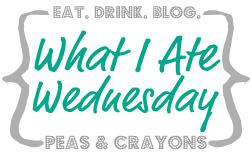 In case you're not, you can read all about it here on Jenn's blog.
So basically, I've never really had a chance to participate because I tend to share my food with you guys, well, all the time, and there's no sense in repeating it. But yesterday I ended up getting pretty busy, and then had my late night at work, so I figured that today would be the perfect opportunity to partake in WIAW. Woot! Let's take a peek…
Breakfast – 8:00am
Yeah, I know. You guys already saw this one.
Snack – 11:00am
I had this delicious apple cinnamon Chobani right after I finished some interval work on the treadmill, along with a small handful of almonds. I actually came up with a pretty awesome new workout, but I'm waiting to share it with you all. You'll see why soon enough.
Lunch – 1:30pm
This salad was incredible. I know, I know, I say that a lot; but this one was serious business. The veggies were nothing crazy…romaine lettuce, cucumbers, grape tomatoes, baby carrots, bread & butter pickles, and onions. To pack in the protein, I added a full pouch of tuna fish packed in water.
Funny enough, the thing that made this salad so spectacular was the dressing. I drizzled everything with 1/2 tablespoon extra virgin olive oil, balsamic vinegar, Garlic Gold, dried basil, and dried oregano.
Somebody tell me why I have not been doing this all along???
Snacks 1 and 2 – 4:45pm & 6:45pm
Last night was my later night at work, so I packed up some snacks to bring with me to eat throughout my shift. My first snack was a golden delicious apple and peanut butter.
My second snack wound up being turned into another smoothie. This one included two scoops of vanilla SunWarrior, 1 tbsp flaxseeds, 1/2 banana, and 5 strawberries.
Snack 3 – 8:45pm
By the time I got home from work, I wasn't necessarily starving, but I was hungry for something. I wasn't in the mood for anything that required much effort so I had about a serving of Special K Protein Plus cereal and the other half of my banana with unsweetened almond milk.
Last night was definitely another unconventional meal situation, but I honestly didn't mind it. I kept myself full by spacing out healthy, protein packed snacks throughout the evening, which kept me energized and satisfied. Hey…if it works, right?
Questions for the Morning:
My current favorite snacks are: ___________________.
The last odd "meal" I had was: ____________________.
Some of my favorite kinds of cereals are: ___________________.