So back to The Bachelorette real quick, since it's obviously on my mind A LOT today… ;)
Apparently, my man Roberto has local family in my neck of the woods! Believe it or not, last night after the "after show," our local news came on with the top story of the night about none other than…Ali & Roberto! Turns out, he has an aunt & uncle who live about 15 minutes away from where I live, and they were saying how Roberto would call and check in with them quite often during the taping of the show, saying how much he was really falling for Ali. (Insert "Awwwww" here.) There was a group of about 15 of his family members gathered at a local pub just down the street from me watching the show and waiting.
Does this mean that Roberto could be coming to visit HERE sometime???
Hey, a girl can dream, right?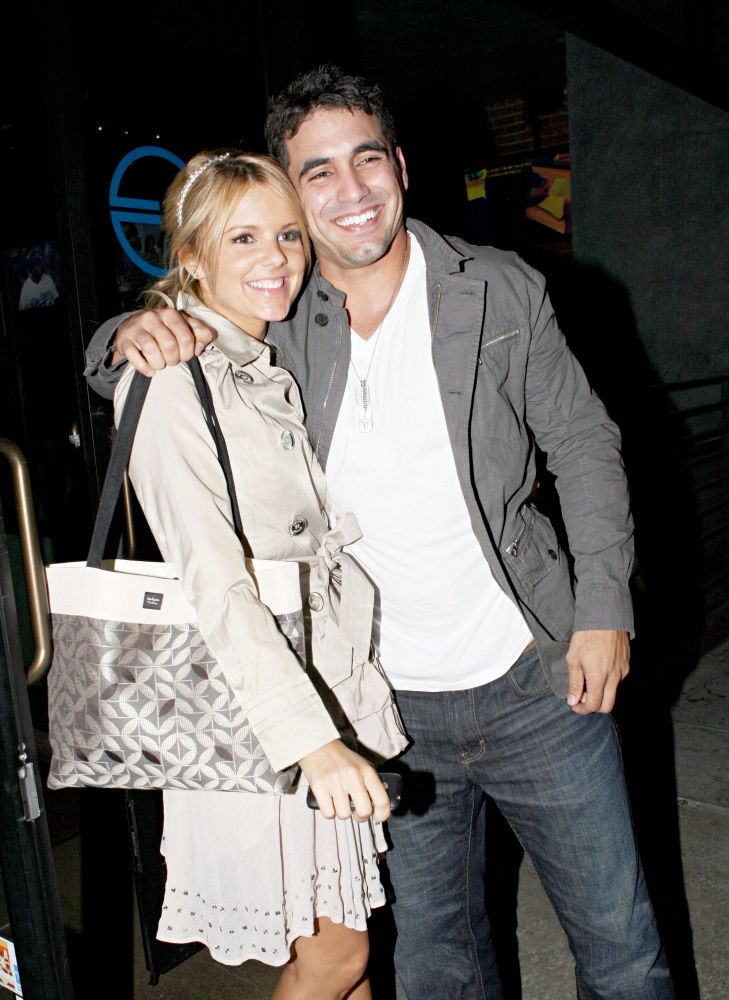 AHHH, how CUTE is he are they?? ;)
Alright, alright, enough about Roberto…this is supposed to be a healthy living blog, not a "junkie reality TV show lover" blog!
Workout
I kept things a little bit on the lighter side today, and had a pleasant session of Jillian's Yoga Meltdown off of Exercise on Demand. I followed it up with a quick (10 minute) leg slimmer & toner video which was great. Still have to follow up on this hip of mine…grrrrr.
Lunch
Once I got back from grocery shopping, it was definitely time to put some food together for myself. Thankfully, the hunger didn't strike until after I left the store. Otherwise, we all know that that could've been T.R.O.U.B.L.E.!
I made what I like to call a healthier take on the famous BLT: a "CLT" sandwich (lettuce, tomato, & cheese) using a wedge of The Laughing Cow Light Swiss Cheese, a whole wheat Arnold Sandwich Thin flatbread & a tiny drizzle of mustard. It's been one of my faves for a long time – especially during peak tomato season!
On the side, I munched on the rest of the tomato & the most delicious kiwi I think I've ever eaten. It was so ripe, I almost was going to throw it away! I'm so glad I didn't – I'll have to let them sit a little longer from now on. :)
I have some suuuuuper ripe bananas just waiting to be thrown into a baked good, so I'm thinking that's going to happening pretty soon. I'll have to see what I can come up with. ;)
I've had a few of you asking about some recent recipes, so I'll be working on posting those this afternoon too. :)
Question for the Afternoon:
What's your favorite way to use up ripe bananas??
(Maybe I'll get some inspiration!) ;)