Well good mooooorning to you all! How was the weekend? Fantastic as ever?
**In case you're wondering, the winner of the Stella & Dot giveaway has been chosen! Head on over to the original post to see if it was you! And as a reminder, you're still welcome to shop my online trunk show (CLICK HERE), which will get you in the running for the Mystery Hostess rewards (so in other words, there's still a chance to earn some free goodies!**
Well, here's a peek at what was happening over here…
While Saturday was a busy one, Sunday wound up being a bit more leisurely. I popped on over to the mall (had to return a crappy iPhone screen protector), browsed around a few stores, had a lovely afternoon iced caramel macchiato, then spent the evening over at my parents' house.
Mom made lasagna, which usually only makes an appearance on Christmas, so it was quite a treat to have that while watching our Jets stink up the place.
This morning, I woke up super hungry, so I quickly brewed my coffee and then went straight for the peanut butter.
Today's peanut butter was slathered over a toasted bagel thin, half topped with bananas, and half topped with grape jelly that I randomly got a craving for when I saw it in the fridge.
Man. When I was growing up, I seriously loved me some grape jelly. It was great on peanut butter, but my all-time favorite was made by my grandma…a cream cheese & grape jelly sandwich on white bread.
source
Ohhh, it was just so, so good. She'd make it and then I'd usually squish it all together to make the cream cheese and jelly practically soak right through the bread. It was the best thing going, and nobody made it quite like her.
It's funny how that happens, isn't it? All the food memories we still have and hold on to all these years later…
-Still, to this day, I think the best scrambled eggs I've ever had were made by my other grandma (my Two Nana's). She used to serve them on the same folding TV tray every time, which I always looked forward to.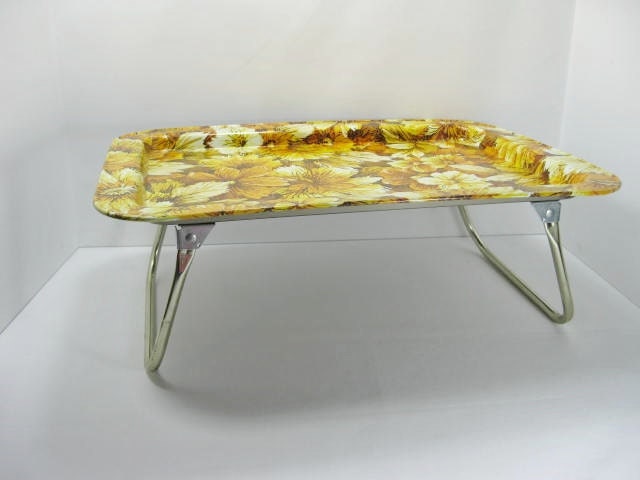 source
Remember those things?
-I went through a phase in kindergarten/first grade, where my favorite sandwich was, get this, Miracle Whip and cheese on white bread. It almost sorta makes me want to gag now.
-I'd also have to say another favorite memory of mine was Saturday or Sunday mornings when dad would ask if we wanted to have coffee cake. Did any of you ever have the Aunt Jemima coffee cake?
source
The batter would all go in a mixing bag, so he'd put it all in there and I'd get to be the "squeezer." I just loved having a special "job" to do with dad.
I could probably go on and on about food memories I have as a child, but I'll leave it at that. Besides, I'd rather hear what some of yours were!
Questions for the Morning:
What were some of your favorite foods growing up?
What are some of your fondest/funniest/grossest food memories?