Happy Tuesday! Is everyone easing back into the grind alright this morning? I hope your holiday weekend was fabulous!
In case you were super busy like I was this past weekend, here's what you may have missed…
Needless to say, if you're all caught up on those posts, then you already know that I definitely indulged in my fair share of yummy picnic eats and treats (umm, definitely the treats). So an early morning trip to the gym this morning was just what my body was craving.
I completed 20 minutes of intervals on the elliptical before heading into today's BodyPump class. To be honest, I'm getting pretty bored with the latest release and wish my instructor would switch things up a bit. I need to hear some new beats to rock out to!
But while I was in today's class, I made another observation. (In case you missed my previous two, you can check 'em out here and here.)
If you've ever been to a BodyPump class, then you know that the last "track" of a release is the stretch. I actually really look forward to this time at the end of the class because it feels so good to really stretch out all of the muscles I just worked.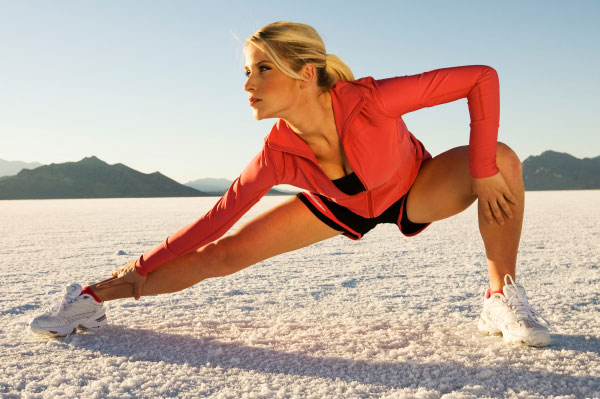 source
But I would have to say, in a typical class, at least two-thirds of the people in the class will totally skip on the stretching.
Maybe it's just me, but that really boggles my mind! I mean, I love me some stretching, and I know it's so good for my body post-workout; but apparently not everyone is on board with me?
What do you think? Is stretching overrated or an essential piece of your workout?
*****
Post-workout and a quick trip to the grocery store later, I made it home for some breakfast. I'm attributing it to the overabundance of sweets this weekend, but I was craving eggs and toast this morning like it was nobody's business.
(You all know I rarely crave eggs, unless it's on a weekend.) But today's breakfast tasted absolutely amazing.
I toasted up two thin slices of my Farmers Market whole wheat bread and topped it with some fresh tomato slices, half a slice of provolone cheese, and some scrambled eggs mixed with fresh basil, salt and pepper.
Once again, the eggs rocked. I think you pepper lovers may be onto something…and Jay, you're not allowed to say "I told ya so!"
Along with breakfast, of course, I sipped on another glass of last minute iced coffee.
I don't know, I think I could get used to this toast and eggs for breakfast thing. I may have to try it out a bit more this week!
Question for the Morning (from above):
What do you think about stretching? Is it overrated or an essential piece of your workout?