Hey friends! How's everyone's Wednesday going so far?
I just finished up my shift at work and am so happy to have the rest of the day off. I don't know what it's like where you are, but it is absolutely gorgeous outside here today! Aaaaand it's totally making me want to go out and get an ice cream cone…just sayin'.
***
So this morning, I had an early Tabata class to teach (two people today – better than nothing) so I figured I'd just do my workout for the day right afterward. Today was Day 3 of Bootcamp and let me just say…
HOLY CRAP.
Between the Tabata classes I've been teaching, and days 1 and 2 (and now 3) of bootcamp, my quads are literally on FIYAAHHH!
My Day 3 workout consisted of some cardio + "Workout B" from Tina's plan, and today's moves were quite challenging, especially this bad boy…the one-leg sit and stand.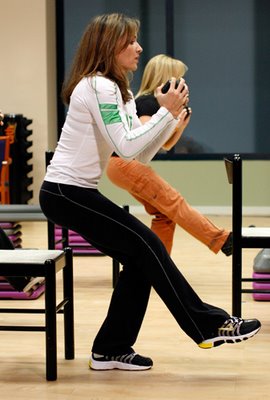 source
Burning. Lots of it. Right from the get-go. Good lord.
By the time I was finished up with today's circuit, my arms and legs felt like jell-o, so I followed up with an easy 20 minutes on the elliptical and called it a day. Whew.
Breakfast
Today was a longer morning shift, so I made sure to bring some breakfast with me.
Nothin' like a good, old fashioned Yogurt Mess to start the day off right! Filled up with…
Absolutely delicious.
Mid morning, I also snacked on a honey graham Clif Z Bar (I really need to find the Iced Oatmeal Cookie again!) and half of a banana (I had the other half before work this morning), but they went undocumented.
Lunch
By the time I got home from work, my tummy was a-rumblin, so I was ready to get down to business with some lunch. Thankfully, it took less than five minutes to get from fridge to table.
I filled up a bowl full of fresh spinach and topped it with some heated up Vegetable Stew + leftover brown rice from yesterday.
FYI: this vegetable stew is also pretty darn delicious cold. I would know…since I had about twenty bites of it before actually scooping out a serving. Woops.
Immediately after finishing lunch, I then found my hands back in the box of toffee…
Ahh! I just can't keep away from the darn stuff.
I'm actually still feeling hungry after lunch (apparently my appetite is pretty hefty today) so I'm thinking about going to make another replica of yesterday's mid-morning snack.
And then hiding the rest of the toffee somehow…
Question for the Afternoon:
Are there any foods you try NOT to keep in the house because you know you have a hard time controlling yourself with them?
Oh yes, I sure do! Ice cream, jelly beans, pretzel m&m's, Nutella, cookies and/or baked goods in any form, and now apparently toffee can also be added to that list.