I'm so excited to finally be able to share my fun adventures from Reebok with you guys today! But first…a quick catch-up on what you may have missed over the weekend:
Alright, I think it's about time we get to some of the fun from this past week's FitFluential ambassador event at Reebok World Headquarters.
First things first…breakfast.
Before heading over to Reebok on Friday morning, a group of us met up in the lobby of the hotel for some breakfast, but we also had another delicious treat waiting for us…Marylou's iced coffees!
I've been seeing Tina rave about this stuff for quite some time now, and since we were in the area, she graciously offered to pick up some of her favorite Peanut Butter Wonderful iced coffees for us.
The verdict? Well, let's just say that she hasn't been kidding. Those things were unbelievable. But more so in a "this tastes like a peanut butter chocolate milk" sort of way; I honestly couldn't taste that much coffee…but that was a-okay by me.
While we waited for the shuttle to come and pick us up, we quickly grabbed some breakfast in the hotel. I ordered the egg white frittata, which came with some pretty tasty hash browns.
I also split a $4.00 side order of fruit with Julie. Yep, that was four dollars right there.
Breakfast was definitely good, but it was a bit pricey. Ahh well, what are ya gonna do, right? Besides, I had more exciting things to think about…
Helloooo, Reebok!
As we entered the building and walked through the hallways of this incredible place, I couldn't help but be amazed by all that was around me.
As I mentioned before, this facility was honestly like nothing I'd ever seen before. Not only gigantic, but clean, modern, and full of friendliness and energy. Every single person that I came in contact with, from our group presenters to the greeter at the front desk, to the employees in the Reebok store were professional, friendly, and welcoming.
I mean how awesome would it be to say that you come here to work everyday?
You can definitely tell that they have a really good thing going here, and even more impressive is the fact that their community has lost more than 4,000 pounds over this last year. How motivating and inspiring is that, right?!?
We eventually made it up to our "home base," a small brand room located upstairs, which was filled with some of the latest Reebok footwear and apparel, as well as a few 'top secret' items.
The morning started with a few very well-organized PowerPoint presentations led by Reebok's marketing manager, Johnice Graham.
Johnice explained how Reebok is looking to portray their brand to consumers, and with their recent partnership with CrossFit, they are aiming to be the "face of fitness." I'll tell ya…after walking around their facility all day, it was VERY evident that that is their intent.
After our morning PowerPoint session, it was time to head to our first workout for the day…the one that I had been anxious about all week long…CrossFit!
I'm sure by now, many of you have heard about the craze that is CrossFit, because it's growing rapidly. In the past five years, there's been over 2,500 boxes that have opened, and around 70,000 individuals competing in the CrossFit Games. If it hasn't caught on near you yet, then I'm sure it will soon!
When we arrived, our group was given a little overview from coaches Austin Malleolo and Caleb Diebolt. Austin, who actually placed 6th in the 2010 CrossFit Games(!), explained how CrossFit workouts are always focused on three things: constantly varied, high intensity, and functional movement.
The workouts themselves are usually short, typically 20 minutes or less, and are easily scalable to fit the needs of any fitness level; for a group of newbies like ourselves, I'm pretty sure we all felt a bit of relief on that one!
Our workout for the day was held in the CrossFit One gym, or "box" as they're called.
Since I'd never been in any other CrossFit boxes before, I didn't have much to compare it to, but I can tell you that this box was quite impressive and immediately motivating.
At the end of our brief overview, Austin gave us our WOD (workout of the day): With a partner, we were to complete a 200 meter run (each), 45 kettlebell swings (combined), and 24 pull-ups (combined), repeated for three rounds.
Before starting our WOD though, Austin and Caleb made sure to give us a thorough overview of correct form on all of the exercises that we'd be doing, including bodyweight squats, kettlebell swings, and pull-ups using a resistance band. I'm so glad that they did this because safety always come first!
Me practicing my kettlebell swing.
Learning how to do pull-ups with the band.
Once we were all briefed on how to do each of the exercises, we split into our teams and got started on our WOD. Julie and I teamed up and I immediately felt at ease since both of us were a) newbies, and b) going into the workout without any expectations.
We cheered each other on as we went, and as we continued through the workout, we began to notice that we were actually doing much better than anticipated.
Then, all of a sudden this happened…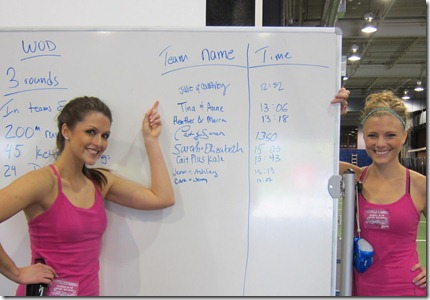 photo from Julie
We came in first place! Who woulda thought?!?
Honestly, the workout was SO much more fun that I had thought it'd be. I've always been fairly competitive, but it's been quite a while since I've participated in something where that competitive edge comes in to play. I could definitely feel my adrenaline pumping as we moved from one exercise to the next, and I was totally feeding off the energy of everyone else around me.
We had a pretty badass group.
I know that I have a few local CrossFit locations near me, and I'm really considering going to check them out…perhaps I can even get the hubs to come and join me?!?
Once we finished our workout, it was time to head back up to "home base" to continue on with the rest of our day, but I was certainly not expecting to have a bag of goodies waiting…
Oh, you haven't heard? Shorts over capris is the new thing.
Okay, I lied. It's totally not. BUT, I will tell you that this pair of Reebok Vibe Tech Shorts is probably one of the ONLY pairs I have ever tried on and immediately felt comfortable in. Not too tight (aka, no muffin tops), but not too loose either. They are awesome.
In fact, ALL of the apparel I got to wear throughout the day was super comfortable:
I'll get into the details of the sneakers a bit more in my next recap…along with some other fun details that I'm pretty positive you're going to want to read about.