Alright, so can I just say that it's kind of a small victory that I didn't end up solely eating an abundance of cookies for dinner tonight? I'll tell ya, after reading about all of the different cookies and goodies that you're all planning on making this holiday season (from my last post), I could feel my sweet tooth growing by the second.
Umm, not that it usually takes much anyways though.
Lucky for me, there's been something else on my radar for the past couple of days that finally made its way into the dinner rotation tonight…
Grilled Ham & Cheese!
This wasn't just any grilled cheese though. This sandwich was top notch, mainly thanks to the Honey-Cinnamon Whole Wheat Bread that I baked up this morning.
I know, right? Sorta crazy to think of using honey-cinnamon bread for a ham and cheese sandwich.
But the only crazy thing about it was that I'd never done it sooner. I paired the bread with a couple slices of black forest ham, provolone cheese, and honey mustard, which proved to be quite the winning combination.
To make for an easy dinner, since I was on my own tonight, I also cooked up a package of frozen broccoli in butter sauce that I had on hand. Bad news my friends. It was pretty gross. Too much soggy, too much butter, and way too much "stem" action goin' on.
I ended up eating most of the "trees" but tossing the "stumps." (<—somebody tell me I'm not the only one who refers to her broccoli this way?)
Hey, at least the sandwich did the trick. And a couple cookies later on won't hurt either.
Workout
Later this morning, I ended up doing that yoga that I mentioned earlier, in the form of the Yoga Bootcamp Twisting Detox video. The video runs about 40 minutes and honestly left me feeling super refreshed, long, and lean.
Now I'm definitely no "yogi," but this video was both intense and a great tension-reliever at the same time. Luckily, I actually have a hard copy of this workout program, so I'll be able to incorporate it again, which I'm definitely planning on.
*****
I'm so excited to actually be home on a Wednesday evening so I'll be able to watch my favorite shows in real-time. I've seen the previews and tonight's Modern Family episode looks like it's gonna be a good one.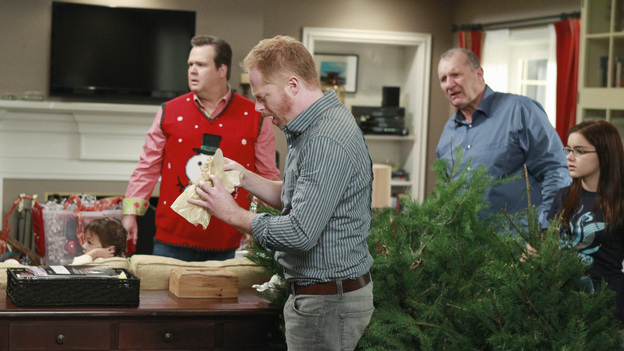 source
Gosh, that Cameron can totally make me laugh!
**Don't forget to get your entries in for my $25.00 Hodgson Mill Gift Certificate. This one's a quick turn-around, so you've only got until tomorrow morning to enter!**
Question for the Evening:
Do you prefer to watch your favorite shows in "real-time" or recorded so you can fast-forward through the commercials?