This post is brought to you by a STSL sponsor. Thank you so much for your continued support!
Jay and I used to joke that we wished we had the guts to just get up and move south. We've both always had a piece of us that really loved the idea of moving – most likely, North Carolina – for a change of scenery, a change of pace, and of course, warmer winters (I'm so not a snow person if it's not falling on December 25th!).
However, as we got older and then eventually had Lucas, we realized that this is really where are roots are and there's a very high probability that this is where we'll stay. We're homegrown, upstate New Yorker's, who are likely lifers. Hey, what can we say? There are two things that held us back every single time we even remotely talked about moving: Friends & Family. Without them, we wouldn't be us, and the thought of being any more than an hour drive to any of them just never appealed to us.
So, here we are! But the good thing is, there really is so much that this area has to offer, and I feel like it's only going to go up from here. As someone who has lived in the area her whole life, I've come to love and appreciate quite a few places in the city, and have absolutely compiled a list of "favorites" over the years. And recently, I was asked by my friends at goodnessknows to share a "goodness guide," featuring my hand-picked "best of" for my area.
I thought, what an awesome idea?! Now I know many of you aren't from around me (boooo), but I think if you keep reading, you'll find a fun incentive towards the end of the post.
Best Lunch Spot – B-Rad's Bistro, Troy NY. The sandwiches, wraps, and salads are out of this WORLD. If you like Caesar, be sure to try Brad's sun-dried infused Caesar salad and wrap. Amazing.
They've also got an amazing hangover brunch, put on a heck of a party, and have some delicious dinners, too!
Best Pancakes – Café Madison, Albany NY. While they occasionally offer some seasonal specials, you can never EVER go wrong with the red raspberry oatmeal pancakes. They're just like no other pancake I've ever had!
Best Farmer's Market – Troy Riverfront Farmers Market, Troy NY. The energy alone at this market is captivating, but the wide array of vendors and delicious smells of cooking food are enough to keep you coming back.
Plus with the nearby splash pad and river, it's enough to keep the kiddos happy and having fun, too.
Best Day Spa – Complexions, Albany NY. – As someone who's been going here for years, I'm continually impressed with the services they provide. Go for the signature facial and a deep tissue massage for a full, indulgent experience.
Best Place to Grab a Beer – Brown's Brewing Co., Troy, NY. The cherry raspberry ale is ALL you need to know.
Best Restaurant with Outdoor Dining – Lanie's Cafe, Colonie NY. I don't know what it is – maybe it's the live music, maybe it's just the atmosphere, but we LOVE dining out and having a few drinks at Lanie's. Plus, the food is pretty amazing, too.
Best Local Beach – Grafton Lakes State Park. While it's been years since I've actually gone, I'm absolutely planning on getting there next year and bringing Lucas. It's perfect for a little day trip, and only about 35 minutes away from our house.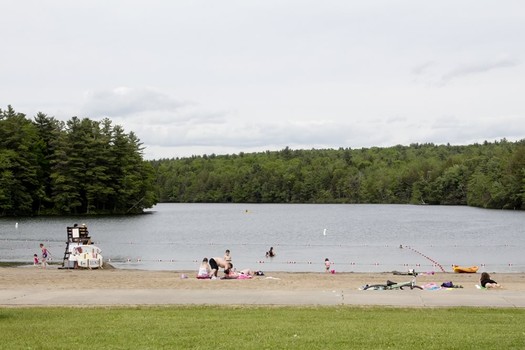 source
Best Ice Cream Stand – The Snowman, Troy, NY. If you guys have been reading for a while, this should come at no surprise to you. And even though we typically go for the orange and vanilla twist, their homemade Coffee Oreo, P.B. Cookie Dough, and Peanut Butter Cup ice creams are just amazing.
The whole family loves it!
Best Bakery – Bella Napoli, Latham/Troy, NY. Whether it's their fudge fancy cookies or their apple fritters, they just produce some of the most delicious treats that can't be beat. And if you're a fan of Italian cookies? Go grab a tray ASAP.
Best Pizza – DeFazio's, Troy, NY. – Ohhhh, this pizza. I don't think we've ever had a bad experience, and that crust? Mmmmmm. Order a big house salad and the Chicken and Red Roasted Peppers Pizza with some added sautéed spinach. You can't beat it!
Okay, so does this post have you salivating like me and wanting to head out to your local favorite spot ASAP?! Well if so, in you're in luck…because I've got a little something extra for you to use towards your next outing:
**A $100 gift card!**
The good people at goodnessknows want to give a lucky STSL reader a chance to head out on the town and hit up their favorite spot(s) or go try something new.
To enter, just leave a comment below sharing one of your FAVORITE local spots (food, fitness, fashion…anything!) or a new place you've been dying to try.
I'll choose a random winner on Friday, October 23rd. Good Luck!!
**************
Disclosure: This post and giveaway were compiled in partnership with goodnessknows. They're one of my new favorite snack bars, perfect for grabbing on the go, and they come in 3 delicious flavors: cranberry, almond, dark chocolate; apple, almond & peanut, dark chocolate; peach & cherry, almond, dark chocolate.
As an added bonus,each serving contains 100 milligrams of naturally-occurring cocoa flavanols – the good stuff found inside cocoa beans! Be sure to check out their website, and visit them on Twitter and Instagram!