Alright, I'm excited to share things with you today. Really excited! So let's quickly get through today's breakfast.
Hot coffee…extra yummy today for some reason.
A bowl of muesli made with plain Chobani, crushed pineapple, strawberries, and blueberries.
Since I went sweet with breakfast today, I guess I'll have no excuse to not get some veggies in at lunch now.
Okay, okay, enough of that…let's get to the good stuff!
Yesterday, I asked if you'd be willing to take a yoga challenge with me and many, many of you raised your hands with excitement. Soooo, seeing as though today is the start of a brand new month, I thought it'd be the perfect time to do this…
The June Yoga Challenge!
That's right! We're holding a June Yoga Challenge up in here, friends.
This month, I'm taking the challenge to incorporate more yoga into my life. I love the way it makes me feel, both mentally and physically, yet it almost always gets pushed to the side. Why do I do that?
So now by starting this challenge, I've really got something to hold me accountable…but I want you guys to join me! And the best part about it is that it really is not complicated AND you can customize it.
For those of you following along with a blog of your own, I've created this snazzy little widget for you to post proudly on your site…I know, I'm shocked I figured out how to even do it.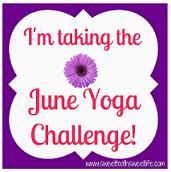 **Edited: The original code directed you to a broken link – make sure to get the updated link above!**
So…What's the Challenge?
For me, I'm challenging myself to incorporate three sessions of a yoga a week into my workout routine. The length of sessions doesn't matter – 45 minutes, 30 minutes, 10 minutes – as long as I do three sessions.
If you want to join in on the challenge but you think three sessions would be too much (or too little!) then you can create your own yoga challenge.

Maybe you want to master a new pose?
Maybe you want to finally try out that hot yoga studio down the street?
Maybe this is going to be your first-ever attempt at down dog?
It's totally up to you!
What if I don't have any yoga equipment/studios/DVD's?
No worries! There are about a gazillion DVD's out there. I have a few that I enjoy (all of which are in my Amazon Store):

If anyone else has any DVD's that they love, feel free to link up here!

There are also plenty of great yoga websites that offer free or low-cost yoga videos for you to try…
How will I check in?
On Fridays, I'm going to do a recap post of how the week went for myself (did I get all 3 sessions in, how am I feeling, etc…) and I would encourage you to do the same. I will have a link-up (similar to WIAW) where you'll be able to link your own recap post, so this way we can all help cheer each other on! Our first one will be Friday, June 8th.
If you don't have a blog, but still want to include a recap, email me with a small snippet by Thursday at 5pm (sweettoothcourtney[@]gmail[.]com) and I'll include it in my own post.
You can tweet about the challenge using the hashtag #juneyogachallenge. This way, we can all follow along throughout the month (and use it for encouragement when we may need it!)
I really think that this is going to be a lot of fun, and I'm excited not only to see how I progress through the challenge, but to also see how many of you are willing and ready to jump on board with me. If there's any other questions, or anything I missed, just ask.
So now…who's going to take the June Yoga Challenge?!?