Nothin' like a great workout and a delicious breakfast to start the day off, right? Right! I'll get to that in a second though…first, let's backtrack to last night's dinner.
I noticed that tilapia was on sale this week at Price Chopper so I picked up a couple filets for Jay and I to have for dinner, not quite knowing what I wanted to do with it. At first I was thinking tilapia tacos, but that went out the window when I forgot to buy tacos. Ergg.
Instead, I wound up cutting the filets into small chunks and and made them into some healthy oven fried tilapia.
Unfortunately, the seasoning was a bit bland, so I'll still need to work on that again before sharing anything. I don't want to be the reason for anyone eating bland fish out there.
After dinner, Jay and I anxiously waited for the season premier of How I Met Your Mother. Did anyone else watch? If so, is is absolutely KILLING YOU to find out who the woman with the yellow umbrella (aka, the "mother") is??!?!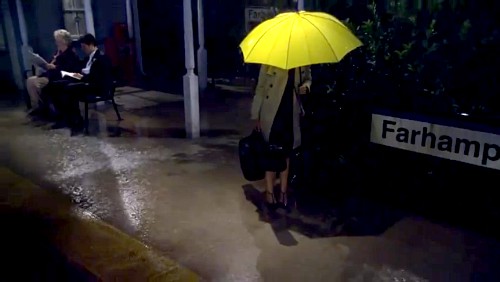 source
It's driving both of us crazy. But from what I've heard, it sounds like this is the last season (tear) so it shouldn't be too much longer until we find out. Any guesses from my fellow HIMYM fans?
*****
Workout
This morning I laced up the sneaks and hit up the treadmill for a good 40-minute walk. I didn't end up following any of my walking routines, but I did manage to through in some hills and speed walks. It was random and awesome. After that, I gave the yoga mat a little workout with a 20-minute yoga sessions, courtesy of my 10lb. Slimdown DVD.
Over the past couple of weeks, I've really ended up throwing yoga on the backburner, and it's quickly obvious as soon as I try getting into down dog…holy cow, are my muscles tight. I miss yoga though, and I'm thinking about bringing back the yoga challenge for October. Sometimes, I just need that little push to keep me into it…hopefully some of you will join me again?!
Breakfast
Post-workout, I headed to the kitchen for some breakfast.
Today's morning meal consisted of a veggie scramble, made with 2 eggs, a wedge of The Laughing Cow light swiss cheese, a small tomato, diced onion, and a crap-ton of spinach.
Along with my scramble I had half of a whole wheat English muffin topped with a glorious amount of melted peanut butter.
I'm planning on having the other half for a mid-morning snack…mmmhmmm.
Time to go make today great! Catch ya later…most likely with a new workout for you all to try out.