Boy, I'll tell ya, there really is nothin' like a good workout and an even better breakfast to kick start your Monday morning!
This morning's workout was comprised of a 40 minute treadmill hodgepodge:
20 mins HIIT (20 seconds @ 9.5mph / 40 seconds @ 4.5mph)
5 mins steady jog @ 6.5mph
8 mins walking @ 3.5mph & an incline of 10.0
7 mins warm up/cool down
What can I say, I was indecisive…
But not when it came time for breakfast!
I toasted up a whole wheat Thomas's Bagel Thin and topped it off with some PB, banana slices, and chia seeds. Talk about deeeelish!
Now, before I go for this morning, I have a little something extra to share with you all…
When Life Hands You Lemons
Last Friday, as I was catching on some blog reading, I came across a post from Julie that really resonated with me and has inspired me to talk about something I have not yet discussed here.
Julie made some phenomenal points on what is dubbed "The Comparison Trap," which many of us women face on a daily basis. I will admit, yes, I do fall into that trap quite often, and it boggles my mind as to just how much I can let it bother me.
Thankfully, when it comes to self-confidence, I am now at a point in my life where I am much better off than I once was. Yes, it's still a challenge I face and strive to improve, but at the end of the day, I am a happy and healthy young woman, and there is nobody else I'd trade places with in the world.
The comparison trap, as Julie mentioned, also very much applies to the world of blogging. When I first began writing Sweet Tooth, Sweet Life, I wasn't exactly sure what direction it was going to take, except for the fact that I would be taking pictures of food.
As time has gone by, and I've continued to try to find my "blogging voice," I've found that it's not only the food that I eat, but the fun in my everyday life that I enjoy sharing most, whether it be date nights, Cody's crazy antics, blogger meet-ups, or days with friends. These are the things that keep me happy.
On the opposite end of the spectrum, there are also things in my everyday life that I don't share with you. And the reason I don't share them with you is because they are either boring, personal, or what my friends and I would call "Debbie Downers."
Well for the past few weeks, I've been dealing with a pretty major Debbie Downer and haven't decided to bring it up until now. At the end of this school year, I'm getting laid off from my teaching job.
If you follow me on Twitter, then you may have already seen me comment on this once or twice when I first got an inkling, but things were still in speculation at that point. Within the past week, however, finance meetings concluded and I got the word that, due to financial reasons, my position would be getting cut.
Part of the reason I haven't mentioned this yet on the blog is because, quite honestly, it just sucks. I'm good at my job, I've worked pretty damn hard to get to where I am, and now I'm losing it. With the way education is today, it will be nearly impossible for me to find another teaching job around here anytime soon. Sure, there are many "what if" scenarios, but I don't like to live in a land of "what if's," so I'm taking it as it is.
For the most part, I really do try my best to keep things on STSL as positive as possible, and I hope that that comes through to you all when you're reading. There's enough negativity out there in the world nowadays, so why add to it?
I am a positive person, and I am trying my best to find the positivity in this whole situation. I mean, there are certainly worse things that could happen, right? And I'm definitely not about to take for granted what I already do have.
I truly do believe that everything happens for a reason, so in some crazy way, I know this is not being done to punish me. Perhaps, it's a blessing in disguise? Whatever the reason may be, I will continue on and finish out this school year with as much pride and perseverance as I can, and hope for the best as to what's to come.
Hopefully you'll all stick with me in my adventure to try to figure out what life's got in store for me next! Hey, you know what they say…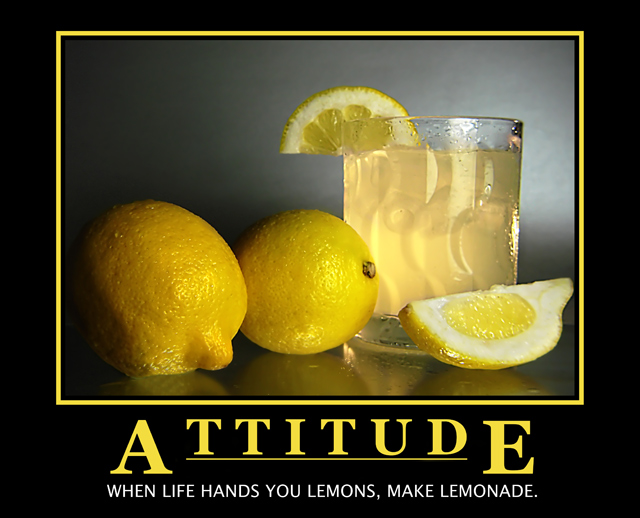 Question for the Day:
How do you keep positive when things get tough?