This is actually a topic that I've thought about for a while now, so I figured I'd throw it out there. Perhaps we'll even get some good discussion going?
Now let me first say that I am certainly NOT knocking anyone else who has done/documented their postpartum body updates in some way, shape, or form. For many people, it is a good and useful indicator of progress that is made postpartum, and I have no problem with that.
In fact, I'll be the first to admit that when I see a fellow blogger publish a post about their postpartum body updates, it's one of the first ones I'll go to read. Magazines at the checkout at the grocery store? All over 'em. What can I say? I'm human. I'm nosy. I'm curious. I think many of us would probably agree.
Fellow bloggers aside, we are all still completely inundated with the media splashing stories of how celebs "dropped the baby weight" and all that jazz on a regular basis. I mean, yes, I get it…it's interesting to see the side-by-side comparisons. But really, sometimes I just want to shout ENOUGH already!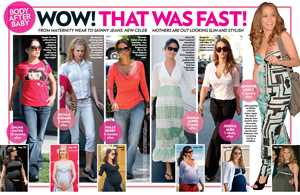 This past year has been quite a journey for me. When I first began my struggles with HA a little over a year ago, I knew there changes that needed to be made to my lifestyle. I needed more of a focus on becoming healthy as a whole, and less of a focus on extreme exercising and being a certain size. It wasn't easy for me, and if we're being honest, I have no doubt that it's still something I'll continue to struggle on finding balance with post-baby.
I am more than ready to get back into exercise again (I have been craving sweaty workouts like it's nobody's business!), but for the first time, I can honestly say that I'm not craving it for the aesthetic factor…I'm craving it for my peace of mind.
And the whole idea of a "finding your happy weight" that we all hear everyone talking about? It's still somewhat of a mystery to me. Since I was purposely trying to put on weight before getting pregnant, I really have no idea what that is for me. What the heck IS my "happy weight?" Is there such a thing? Who knows.
So for all of those reasons and others, I've decided that I won't be tracking my post baby body weight loss and/or measurements on the blog. Whether or not I'll do any sort of tracking for my own personal knowledge is still undecided. I want to see progress, obviously, but at the same time, I don't want to get caught up in all of that hoopla of numbers again. At first I thought, "Geez…do I not want to publicize it for fear of failure?" But after weeding through all of my thoughts on the topic, I realized that's definitely not it. Basically, my feeling is this…
Plain and simple, I just don't want that to be the focus of my blog (and I've actually already turned down offers from a couple different companies to review their products on the blog for that very reason). I don't want to feel pressured to have to be a certain size/drop a certain amount of weight/look a certain way by any particular time. Been there, done that, and quite frankly, don't want to do it again.
And as nice as it is to hear things like "you look great!" or "way to go!," I don't really need that either. I don't need to be compared to someone else, and really, I wouldn't want anyone comparing themselves to me. We are all so different and respond SO differently to pregnancy…to compare one to another just isn't necessary or fair.
I've had an absolute blast sharing my Baby Tooth updates with you all, and from what I can tell, it seems like you've all enjoyed them too…
Speaking of which, the Baby Tooth page was updated this morning!
But as far as post baby goes, I'm keeping those updates for myself. Does it make sense? Am I being a cop out? I mean, after sharing so much through my pregnancy, including weight gain, why wouldn't I share weight loss?
I don't know if I really have an answer for that, but all I can say is that it's just what I've decided to do and what feels right for me. While I have no idea what will be the focus on the blog, I know my main focus in life is going to be my little man…which will be more important than any sort of weight loss.
So what do you guys think?
What are your thoughts on postpartum baby updates?
Do you enjoy reading them?
Would you/did you share your own? What made you do one way or the other?