Alright, my friends. Today's post is a lengthy one! So rather than start off with the small talk, let's just get right to it.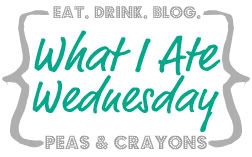 I was planning on doing a bit of a "Day in the Life" post again like I did
a couple of months ago
, but I also wanted to do a WIAW. SO…I combined 'em both and today we have a 'Day in the Life' + a What I Ate Tuesday. Heeeeeere we go!…
*****
5:30am – Alarm goes off…hit the snooze. Duh.
6:00am – Alarm is going off again. Shoot…did I really hit the snooze button that many times?? Get out of bed, shower, makeup, get dressed, and all that jazz.
7:00am – Jay gets Lucas out of bed and ready for the day. Five minutes later, I nurse him and we play for a little while on the bed.
7:20am – I head out to the kitchen to pack up bottles, lunch, and pump parts. While I'm out there I spot the one remaining corn muffin so I cut it in half and snack on one. Partly because I'm hungry…but mostly because I freakin' love corn muffins and just want some.
7:25am – I snack on my corn muffin while I mix up my morning smoothie and Jay gets Lucas in his car seat and ready to go.
7:35am – We're out the door! A little late, but we made it.
7:50am – Drop Lucas off at Erika's house. He was pretty chatty this morning, but in a good way.
8:05am – Arrive at work. Once I get to my desk I log in, do a quick glance over of emails, take care of an urgent ticket request, then head to the kitchen to make my coffee.
8:15am – Back at my desk after some small chat with a couple co-workers in the café. I get to work and sip on my smoothie for today which is a delicious one! Frozen banana, blueberries, vanilla protein powder, unsweetened vanilla almond milk, and loads and loads of spinach.
10:15am – Time to pump for the first time today. Oh, such fun.
10:35am – Back at my desk after prepping an envelope of oatmeal (maple brown sugar, ohh myyyy, so yummy!) with a scoop of vanilla almond butter.
11:00am – Time for my weekly meeting that I run. One of the guys wound up bringing in quesadillas and nacho chips with guacamole and queso dip (yeah, we have some awesome snacks at these meetings!). I snack on a couple chips with queso, but I was still sort of in oatmeal mode.
12:30pm – Quick trip out to Target on my lunch hour! Gotta grab a few essentials and a birthday present for a 1 year old birthday party we have on Saturday.
1:15pm – Back at work and I'm starving! Time for some lunch.
Today's lunch is a salad (leftovers from Sunday) with some added dried cranberries, avocado, and deli chicken. It tasted soooooo good.
2:10pm – Time for pumping session #2. I scroll through my Instagram feed and shoot a few texts off to various pals. to pass the time.
2:30pm – Shoot! Forgot I have a conference call. I quickly wrap up my pumping session and head to the conference room. Thankfully, the customer is not as angry as I was anticipating and we wrap up fairly quick.
2:45pm – Back at my desk and in need of a snack. A co-worker friend dropped off a homemade treat for me today, which is some sort of yummy oatmeal, banana, chocolate chip cookie with (from what she tells me) no added sugar or butter. Deee-lish!
3:30pm – Done with work for the day! I tie up any loose ends and then I'm out the door to go pick up Lucas.
3:45pm – Pick Lucas up from Erika's house. He's awake when I arrive and greets me at the door with tons of smiles. My heart melts immediately. We talk a bit about his day (his naps were a bit off and he wound up taking all three of his bottles…I only pumped twice. Figures. I definitely don't feel like pumping again!), then head back home.
4:10pm – Lucas is showing he's sleepy so I keep him right in his car seat, give him his paci, bring him in his room, turn on his sound machine, and let him fall asleep. He does. Wahoo! I take a bag of breastmilk out of the freezer for Lucas tomorrow (I really don't feel like pumping again today!) and wind up grabbing a couple energy bites out of the fridge and snack on those.
4:20pm – Change out of work clothes and into workout clothes…time for some T25 today, baby! Today's video is 'Speed 1.0' and I am a sweaty beast by the time I'm done. But it feels goooood.
5:00pm – Jay arrives home…with a surprise! Roses!
It was a special surprise for me for birthday week and I am once again reminded of just how lucky I am to have this man in my life.
5:15pm – Lucas is still sleeping but I don't want him napping the evening away so we wake him up. Once he finally comes to, he's excited to see daddy is home and we all hang out for a while in the living room.
And yes, he managed to get that sock up there all on his own.
5:45pm – Dinner time for everyone! Lucas gets pears tonight while Jay and I enjoy some Crockpot Lasagna Soup. I follow the recipe almost exactly, only adding in about half a container of ricotta cheese at the end of cooking (as per Chelsey's recommendation – thanks lady!).
6:05pm – Our schedule is a bit off from usual, but Jay and I had plans to take Lucas's 6 month photos, so we go for it, despite the fact that Lucas seems semi cranky. Boy oh boy, it's getting harder and harder to take these photos with him…we can't keep him in one place!
Luckily, we manage to snap a few good ones…
And now I just need to work on getting his 6 month post written up.
We play for a little while longer in the living room.
7:00pm – Little mister is turning into quite the cranky pants…it's time to get ready for bed. Jay gives him his sponge bath and gets him in his PJ's while I quickly puree some butternut squash that I had cooked up Sunday evening. Gotta get that done before he's asleep since that blender is LOUD.
7:19pm – I nurse Lucas, we read a story, and I put him down in his crib, awake. While I'm nursing Lucas, Jay takes care of cleaning and sterilizing the bottles and pump parts and getting his new bottles ready for tomorrow.
7:26pm – Lucas is asleep…no cries at all tonight(!!). <—I'll talk more about our sleep progress in his 6 month post.
7:30pm – I quickly run out to Price Chopper to get a refund on some chicken we were totally overcharged for. I get my $13 refund (woot woot!), grab a few items, and head back home.
8:10pm – Back home. End up eating the other remaining half of that corn muffin from this morning while I get my lunch put together for the next day.
8:25pm – Collapse on the couch and start looking through the photos we took earlier of Lucas and begin writing this post while we catch up on our DVR'd episodes of HIMYM and Mike & Molly.
8:50pm – I'm hungry. And I want something sweet, so I scoop out a small dish of ice cream (cookie dough from Stewart's…yum!).
I also wind up stealing a few generous bites of leftover cake from Sunday, too. It takes all of my willpower to not shovel the entire thing in my face. Then, five minutes later, I'm on sugar overload. Story of my life these days. Whoops.
9:45pm – Time to get ready for bed. I. Am. Pooped. Wash my face, brush my teeth, and head to bed.
10:00pm – Lights out…time to sleep!
Whew…that was a lengthy one. Thanks for stickin' around if you're still reading.