Soooo, funny story.
Apparently, the Labor Day holiday really threw me off because yesterday I was all prepared to put together my WIAW post for, well, today…thinking it was Wednesday. It wasn't until I read Ashley's post yesterday when I realized oh, DUH, I'm a day behind.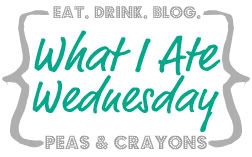 Soooo, I may be a day late with my WIAW shenanigans, but hey, better late than never, right? Besides, this is all actually what I ate Monday anyways, so we're all off as it is.
ANYWHO…here's a look at Monday's eats, just for shits and giggles.
Breakfast
A bowl of Apple Cinnamon Raisin Baked Oatmeal with a splash of milk, half a banana, and coffee.
I know I promised this recipe for you guys, and it's headed your way this afternoon so be on the lookout!
Mid-Morning Snack
An egg cup + the rest of my banana from breakfast.
As if you couldn't already tell, said snack was enjoyed on the floor…while playing fetch with Cody and chatting with Lucas on his play mat. He just loves talking to the birdies and the butterflies!
Lunch
Lunch was a little spaced out, as usual. At first, I started getting hungry around 1ish, but sure enough, Lucas woke up from his nap ready to eat himself (you can see his hand creepin' in the corner of the photo below) so I quickly grabbed a handful of these Nature Box snacks to tide me over. They're really tasty.
Once the little guy was fed, I put him in his bouncer chair while I whipped up a quick yogurt bowl.
Plain Greek yogurt with strawberries, blueberries, a little granola, and some Kashi Go Lean. Always a favorite combo of mine.
A couple hours later I was hungry for something else so I snacked on some celery and peanut butter.
Dinner
Jay got home from work a few hours later and said he was in the mood for a glass of wine. That sounded riiiiight up my alley, so I joined him and had a glass myself before grabbing something for dinner.
We left dinner sort of up in the air (I'm so bad with this lately) since we had a bunch of different odds and ends of leftovers in the fridge. Jay had some leftover chicken enchiladas while I finished up some leftover pasta with homemade sauce, a meatball, and a chunk of chicken sausage.
Dessert
Of course, there's always room for dessert. Especially when there's leftover Heath Bar Crunch Cookie Bars in the house.
I thoroughly enjoyed two small squares with a scoop of this ice cream…aaaand I swear, I could eat this every single day of my life. Just sayin'.
Soooo, did the Labor Day holiday throw anyone else off this week? I mean, granted, my days are sort of always off lately, but whew! I think I'm losin' it.
Be on the lookout for that recipe later today!!