Well, just when I thought I was done with this whole cold and sickness thing…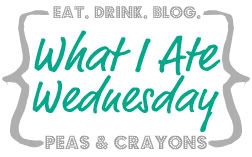 Thankfully, I'm not dealing with another full-blown cold, but rather, the remnants of the one I'm still apparently trying to get rid of. It has now traveled down to my chest so I am sporting one heck of a sexy cough. Oh yeah, and the whole breathing thing is sort of an issue now…
Ugh. My biggest hurdle with the average cold has always been when it eventually lands in my chest and and aggravates my asthma. It's pretty much inevitable and leaves me tight chested and wheezy. So I got to get all cozy with my fancy nebulizer last night. I know you're jealous.
Said cold + asthma acting up has put a bit of a damper on the workout front (go figure…just when I was starting to get back in a groove again). I'm thinking I may attempt some yoga or Pilates tonight and work on easing back into things again, but meh…we'll see how that goes.
But anywho…back to the topic of this post. Today's WIAW post features all of Monday's eats, with the exception of the yummy dessert you'll see at the bottom. Let's goooo!
Breakfast
A piece of Veggielicious Egg Casserole + half a banana (Lucas had the other half) + an unphotographed half a piece of banana bread + coffee.
Breakfast was eaten at home because Lucas had a doctor's appointment at 9am that morning, so we had a little extra time at home (no complaining here!). The appointment went fairly quick, so I dropped him off at the sitter and then headed off to work…but not before stopping at DD's for another cookie dough iced coffee.
That's a recycled photo from the weekend, but it was the same thing. And equally delicious.
Mid-Morning Snack
A little while later it was time to do the pumping thang, so I snacked on a big piece of cinnamon sugar crusted banana bread while I took care of that.
And when I say big piece, I'm not kiddin'!
I can't get enough of the stuff.
Lunch
It had probably been a week or two since I last took the time to make a salad for lunch, so this one was much anticipated.
I filled it with all the usual veggies, in addition to deli turkey, avocado, and dried cranberries with a raspberry walnut vinaigrette + croutons. Lots and lots of croutons.
And, side note…how cool are these snack bags?
I was looking for some of the regular snack baggies at Walmart the other day and came across these with the portions pre-labeled on there. I'm a fan!
Dinner
I never wound up having an afternoon snack (from what I can remember…?) so I was more than ready for dinner. It was one of the first evenings in a while that was gorgeous while we were home, so we fired up the grill for the first time of the season.
We had Italian-marinated grilled chicken, oven roasted potatoes, and sautéed zucchini, which all tasted so incredibly delicious. Man, I wish we could grill year-round (without freezing our rear ends off).
Shortly after finishing dinner, I found myself in the fridge grabbing for one of my friend Mal's peanut butter balls…
She sent me home with some on Saturday evening and I've been snacking on one or two every day since. They're sooooo stinkin' good.
Dessert
No, I don't count said peanut butter ball from above dessert. That was more of a "snack in passing." So a couple of hours later, I rummaged around the kitchen to see what sounded good. Monday night's dessert was actually a small dish of ice cream, but I'm more excited to share last night's dessert with ya instead…
Okay guys, seriously. Vanilla Greek yogurt + melted cookie butter swirled in. You MUST try this. It is so. freakin. good. I also added in some mini chocolate chips because, well, why not?
Well, that about sums up another WIAW around heeeeere. I'll catch you guys later!
What desserts have you guys been diggin' these days?