Happy Wednesday! Or shall I say, happy SNOW DAY! We're expected to get around a foot or so of snow today and while I could really, really do without some more of the white stuff, I'm certainly not complaining about being able to stay home with my little man today! (I consider myself very lucky to have a job that allows some flexibility in terms of being able to work from home when needed).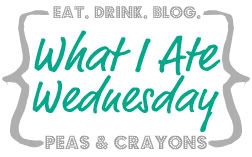 Today's WIAW is actually a recap of all of Monday's eats. Background scenery will look a bit different from usual weekday meals since I actually worked from home on Monday too (Lucas had his shots that morning and I wanted to be with him for the day).
So, let's get to it! And thanks, as always, to Jenn for hosting!
Breakfast
Two Van's waffles topped with peanut butter, banana slices, and cinnamon + coffee.
Mid-Morning Snack
A snickerdoodle Larabar (one of my favorites!)
I snacked on this quickly since I heard Lucas start to wake up from his nap, and once I was finished, I went and got the little guy. It was so nice to be able to work from home and stay with him all day!
Lunch
It seemed like it took forever for Lucas to be ready for his afternoon nap so my lunch was a bit delayed. Thankfully, it was totally worth the wait.
A nice, big salad with mixed greens, cucumbers, grape tomatoes, carrots, feta cheese, dried cranberries, and some croutons.
Since the salad was lacking in the protein department, I also topped a couple of graham crackers with some Peanut Butter & Co Cinnamon Raisin Swirl peanut butter.
Mid-Afternoon Snack
Since lunch was so late, I wasn't suuuper hungry, but I knew I'd need a little something before dinner, so I snacked on a bag of sweet potato popchips.
Since I have such a huge box of these bad boys lying around, I love just having them to grab and go. They have a bunch of different flavors but the sweet potato is probably my favorite. SO yummy. Not like you're surprised though, right?
I also wound up snacking on a couple of pieces of leftover chocolate from the birthday party on Saturday because, well, it was sitting on the counter.
Dinner
Eventually Jay and I made some dinner once the little man was in bed. Once again, we are horrible at meal prepping/planning so far this week, so we tried to make do with what we could find…that happened to be some grilled chicken wraps (frozen, bagged grilled chicken from Sam's Club – perfect for last minute nights like this) with a slice of provolone cheese and some BBQ sauce.
And, as you can see, a crap ton of tater tots with no veggies in sight. Hey, it happens.
After-Dinner Snack
I found myself hungry once again a little while after dinner so I had a bowl of Quaker Oatmeal Squares with unsweetened vanilla almond milk.
Gosh, I love that cereal.
Looking back on Monday, apparently I was really craving some carbs (then again, who am I kidding…I am ALWAYS craving the carbs). I usually do try to vary my meals so there's a bit more variety (aka more fruits and veggies, less carbs), but sometimes days like Monday happen. It all balances out in the end so, really, it's no biggie. It was all thoroughly enjoyed.
**In case you missed it, the Baby Tooth page was updated with a fun giveaway that I'm sure all moms and moms-to-be will enjoy!