Okay, sometimes I'm really just awful coming up at blog intros. I've got nothing.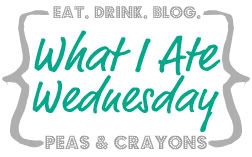 But, I guess I could go ahead and say that I'm psyched to have it already be Wednesday, AND I'm still succeeding at sticking to my plan for morning workouts.
Then again, take that as you will, since I only declared that
about a week ago
.
I think my biggest hurdle will be planning my workouts at the beginning of the week (or at least the night before) so I'm not scrambling in the morning trying to figure out what to do. That's the worst, isn't it? To keep my brain from having to work too hard, I've mostly been sticking to DVD's and the NTC app, but I'm not gonna lie…sometimes, I'm really missing that gym setting. I don't have any plans to join one in the foreseeable future though, so I think I'm gonna have to invest in some new items for our "home gym" (aka, the corner of our basement). My two sets of dumbbells are getting sort of lame.
Not lame? My eats from Monday. So how's that for a segue into today's WIAW post?
Breakfast
I'm totally in the greek yogurt + berries + cereal mode right now. The strawberries and blueberries are decent and, well, the other stuff is just always good.
I also still have a bit of an iced coffee problem. Please, send help.
Mid-Morning Snacks
I started out with a banana, then about a half hour later I also dug into a package of cinnamon brown sugar belVita breakfast biscuits.
I loved them so much from the campaign I did a couple of months ago that I had to go out and buy them again. My store didn't have the blueberry flavor this time, but these are just as delish. I'm a major fan.
Lunch
Monday's weather was sooooo nice, I just had to get outside and catch some fresh air and sun rays. So I grabbed my friend Morgan and we hit up the outdoor picnic tables for an al fresco lunch.
Lunch for me was a leftover piece of grilled chicken from Sunday + some more leftover couscous salad. Not on delicious, but a total breeze to throw together. If only I had things like this waiting for me everyday.
Mid-Afternoon Snack
As yummy as lunch was, it actually didn't hold me over as long as I thought it would. So a couple of hours later, I snacked on some celery sticks + peanut butter.
You didn't really think I'd go a day without peanut butter, did you?
Dinner
Jay and I kept things simple for dinner with BLT sandwiches and some green beans.
I'm usually so caught up with adding x, y, or z to my sandwiches to "jazz" them up that sometimes I forget just how good a simple BLT is. You guys know what I mean?!
Dessert
Ahhhhh…an old dessert favorite.
Do you guys remember when this was a major pregnancy craving of mine? Well, apparently it's also a warm weather craving, because Jay and I both had a "omg we have to have it" moment on Monday night.
Still just as amazing with mini chocolate chips. You. Must. Try. It.
Alright friends, it's work time. Happy Wednesday!
So I'm curious…how many of you work out at home? Work out at a gym? Work out somewhere else?