Ok, seriously. Is it bedtime yet?
Man have I been tired so far this week! I feel like I'd be tempted to blame it on jetlag from traveling over the weekend, but does three hours really make that much of a difference? Instead, I think I'm better off blaming it on my late night softball game shenanigans from Monday.
Our game was a late one, so we didn't get started until a little before 8pm. We went into the game knowing that it could potentially be our last one of the season, and there had also been discussion that it may be the last game…ever. Due to lacking players and everyone's busy schedules, we just weren't sure we were ready to tackle the team again next year, so the assumption was that this could be it.
Although we lost, the game was great and I even hit my first-ever triple (err, more like a single and got to third on an error…but who's keeping track?). After the game was over, some of us stayed and hung out for a while to have a couple beers just like we used to. Thanks to my MIL staying home with Lucas, we didn't have to worry about rushing home to get him to bed for a change.
We were all having such a great time, and when the umpire from the last game played told us he was shutting off the lights, we offered to close up the field ourselves since we weren't ready to leave. Eventually, myself, Jay, my dad, brother, and a couple other guys on the team wound up back out on the field and just had fun goofing around and doing some batting practice with baseballs until almost 11pm (wayyyy past this granny's bedtime during the week).
Ultimately, we determined that night that we're going to keep the team going! My dad started the team back in 2003, as a way for him and I to be able to play together, and we've all been playing together every year since.
That's my dad on the mound and me as his catcher
So yes, while some softball nights get crazy busy and I feel super behind now that we have a kiddo in the house, I think it's worth the extra frazzle. Because moments like these are ones I'm not quite ready to let go of.
So yeah…I guess that was a bit of a tangent as to why I'm tired, wasn't it?
Now let's just get right on in to the rest of today's post because it's WIAW!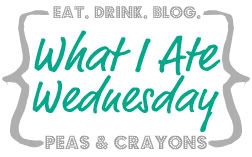 Breakfast
Apparently my room service oatmeal got me excited enough to make some of my own, so I cooked up a batch of Voluminous Oats.
It had been quite a while since I last cooked a batch and I forgot just how stinkin' GOOD they are. Oh, and so was that grande iced coffee from da 'Bux. ;)
Mid-Morning Snacks
I kept things simple with a nice, juicy peach and a blueberry Detour SMART bar.
Lunch
I prepped a couple of salads for myself on Sunday, and ended up topping this one with some homemade chicken salad (I made it similar to my favorite sweet tuna salad…just with chicken and light mayo instead of Greek yogurt).
I forgot to add a few things (namely, tomatoes from dad's garden!) so it wasn't the greatest. But it worked.
Mid-Afternoon Snacks
A little while after lunch, I was setting up one of our Minute-to-Win-It games at work, which just so happened to incorporate m&m's this week. So, obviously, I had to snag a handful.
If only they were the pretzel ones!
And shortly after I got home from work, I ended up snacking on a bunch of popcorn while Lucas tried to trade his Cheerios with me instead.
Silly boy.
Dinner
Our dinner on Monday night was actually BLT's with french fries, but it wasn't all that exciting to look at. So, instead, how 'bout I share Sunday night's dinner?
Marinated and grilled steak, baked sweet potatoes with honey butter(!!), and a bag of frozen beans and carrots. It was simple, but perfect after a weekend away with minimal veggies and lots of food ordered out (pretty sure I had at least three Egg White Feta wraps from Starbucks while I was away…anyone else obsessed?)
After Dinner Drinks
While we were at softball, we broke out the coolers and enjoyed a couple of beers both during the game and after.
I wound up having two (Landshark + one of my favorite Sam Adams Porch Rocker's) and then stole a little more from another one. It tasted good. And it was Monday.
Well, that's a wrap! So let's chat. Tell me…
What's been your favorite beverage of choice this summer?
Do you participate on any sports teams (or have you in the past)?
What's your favorite m&m?