*In case you missed it, the Baby Tooth page was updated yesterday with Lucas's 5 month post!
Hey guys, happy Wednesday! What's shakin' so far this week? Things have been going pretty well over here. Yesterday after work, Lucas took a nap so I was able to squeeze in a quick T25 workout. Whewwwweee! Those videos are NO joke…and I love 'em!
Last night after Lucas was in bed, I also went out and got a spray tan after calling and realizing I still have two more left from a package I bought last year; they expire on the 19th, so I guess it was a good thing I called. Reason for the spray tan? I have my work party tonight, which involves wearing a dress, which meant exposed, pasty legs. I actually really don't mind spray tans at all (I've had good luck with no "orangey-ness" but my goodness, do they smell horrible. Seriously. It's all I can smell today.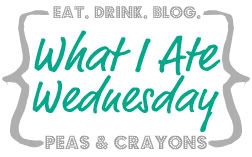 So due to said work party, tonight, I won't be seeing my little guy again until tomorrow since he'll be in bed by the time I get home and I'm feeling super sad about it. Drop off this morning was no fun, but I'm hoping the day will go by quickly. And I'm sure he'll be having plenty of fun with his daddy later this evening.
But anywho… let's keep this party rollin' with today's WIAW, which is actually all of Monday's eats.
Breakfast
Overnights oats in a jar + coffee
This meal kept me full all the way up until lunch (which is rare these days). And you can be I scraped every. last. bit. of peanut butter out of that thing.
Lunch
A big ol' salad made with mixed greens, cucumbers, grape tomatoes, carrots, feta cheese, dried cranberries, and grilled chicken with a balsamic vinaigrette dressing on the side.
I also had to have a piece of cornbread to go along with it. That batch lasted a whole 2-1/2 days in our house before we polished it off.
And now I want to make more. ;)
Mid-Afternoon Snack
My meals actually did a really good job of keeping me full all day, and I probably could have done without the snack, but I still decided to have a KIND bar from my desk stash.
(It's a recycled photo – don't worry, mine wasn't expired
)
Dinner
I was SO excited to try out this recipe for Slow Cooker Garlic and Brown Sugar Chicken that I've had pinned for a while. Thankfully, Jay was able to put it together that afternoon (I was running late in the morning, of course!) and he said it was super quick and easy. I served it over some whole wheat couscous with honey glazed carrots on the side.
The chicken and sauce is so, so good!! Both Jay and I totally loved it (and finished up the rest of the leftovers for dinner last night, too).
Dinner was extra special that night since we had the whole family together! Cody was hanging out at our feet the whole time, and if he wasn't trying to get us to play fetch, he was just straight chillin'.
Lucas had a yummy dinner that night of oatmeal and a few bites of prunes. This picture, of course, was taken before he got covered in food.
(I am also currently obsessed with this photo!)
I love getting to have this time with all of my boys.
It's seriously becoming one of my favorite parts of the day.
Dessert
No photo for this one, but I did have a couple of my messy cookies with a small dish of ice cream after a somewhat unruly bedtime routine with the little mister up there, who decided he just did not want to go to bed.
Alright friends, that's all I've got for ya today. I'll catch you guys on the slip side. ;)