Hey hey! It's that time of the week again…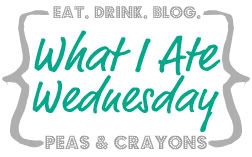 Thanks, as always, to
Jenn
for hosting. Now let's just get to the good stuff, shall we?
Breakfast
This breakfast was actually not what I had planned at all for yesterday morning.
Before I left for work yesterday morning, I started packing up the makings of what would be a yogurt bowl. I put together my strawberries and blueberries, and even had some cereal in a baggie…but I forgot the yogurt. Sheesh.
Thankfully, there were bagels in the office yesterday morning, so I grabbed a multigrain one (I think?) and topped it with some honey walnut cream cheese (<–my favorite from Bruegger's!) to have along with my berries. I actually wound up putting some of the strawberries ON the bagel, which was quite delicious, FYI. ;)
A couple of hours after breakfast, I had to head out of the office for a bit for my 30-week prenatal appointment. The appointment went GREAT, and included a few cool pieces of info…
Baby and me are measuring "perfectly" and weight gain is right on target

Although I already knew I passed my glucose test, I found out my number was 86…they like it to be below 130. Holla!
I'm not anemic (WOOT!)
Baby Tooth is head down! Right now, he's in a bit of a "C" shape, with his head down near my right side (which explains why I feel his little hiccups so low), his little butt up and to the left of my belly button, and his feet? Well, yes…they are right where I thought…up near my right rib cage. He's been reminding me of that daily. ;)
I have one more ultrasound headed my way at 36 weeks(!!)
I ended up scheduling the rest of my prenatal appointments. THAT was surreal…
It was a great appointment indeed, so Jay and I decided to celebrate by grabbing a quick lunch at Chipotle. (Actually, I'm kidding. I planned this Chipotle stop about a week ago…it would have happened regardless).
Lunch
YUMMMM.
I ordered my usual chicken burrito bowl and Jay and I shared some chips and guac.
I don't know if it was because I was eating earlier than normal or not, but I wasn't even that hungry by the time we got there. And then, I still filled up super quick as I was eating it, so I decided to eat half and save the rest for (what I thought would be) later in the afternoon.
Dinner
Well, I didn't end up getting hungry at all for the remainder of the day(?!), so I decided to just have the rest of it as my dinner when I got home.
I had made Jay a sandwich for dinner (softball game for him last night) as I was getting my dinner together, and the tomatoes I was slicing for it looked SO good that I decided to just cut up the rest and have it along with my burrito bowl and chips.
Fresh tomatoes topped with just a little salt? Mmmmm….looooove 'em.
A little while after dinner, once Jay had left for his game, I decided to get my butt in motion and did my full Pilates DVD (50 minutes). It felt really good to get moving again, and I was thrilled to actually have found the energy and desire to even do it. I'm already noticing certain things getting more difficult though…yikes!
After Dinner Snack
While I remained pretty full and satisfied throughout most of the day, yesterday evening was a totally different story. About an hour after I finished my Pilates workout, I was starrrrving. I headed to the kitchen and started with a handful of the first thing that came into sight…
You guys thought I loved TJ's cat cookies? Well…these Cinnamon Schoolbook Cookies are incredibly addicting and amazing. I wind up grabbing small handfuls of them ALL the time (probably doesn't help that I leave them right out on the counter).
At the rate my hunger was going, a handful of those wasn't going to to do the trick, so I decided to make myself a bowl of cereal.
Quaker Oatmeal Squares, Honey Nut Cheerios, and blueberries with almond milk…and then I went back for a second bowl after that one. Holy cow, I just could not get enough!
Once I was finished with my cereal marathon, Cody and I settled in on the couch and watched a little TV while we waited for Jay to get home from softball.
Shortly after that, it was bed tiiiiime for me.
So I'd say it was a bit different day of eats than normal, but it was delicious nonetheless.
Happy Wednesday, everyone! :)