I got some great news yesterday…I passed my glucose test! WOOT WOOT!
Everyone I talked to was telling me that I'd probably have at least a little inkling if I thought something was up, and since I've really been feeling great, I was hoping that was a good sign. The nurse told me the test looked "perfect," so now that's just one less thing to worry about. Gotta love that.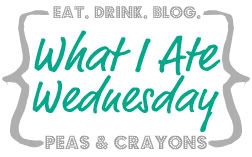 Sooooo, here we are. Another WIAW already. Yesterday included a pretty good mix of some pretty awesome food. I'd like to say it was fairly balanced…we'll see what you guys think?
Breakfast
A vanilla Chobani with fresh strawberries and a mix of Honey Nut Cheerios and Quaker Oatmeal Squares.
Nothin' like a good yogurt mess on a warm morning to start the day!
Mid-Morning Snack
A piece of banana bread. Have I mentioned this yet? I can't remember…anywho, I made this recipe (minus the chocolate chips) on Sunday and have been enjoying a slice every morning so far this week.
I think that recipe is, by far, my favorite out of all of my banana bread recipes.
Lunch
Yesterday's lunch wound up being a little different than I had anticipated. I originally brought a salad with me, but then I remembered that I was having lunch catered here for our sales team…and then I remembered that I ordered pulled pork.
And I immediately changed my plans for that salad.
Actually, my plan was to just take a small amount of the pulled pork (which I did, as you can tell) and a roll, and then eat my salad a little later when I was hungry again. Well, the pork wound up holding me over way longer than I expected, so I nixed the idea of the salad…for a little while. ;)
After I quickly ate my pulled pork, I headed back outside on my blanket and enjoyed some reading in the sunshine while it was still here.
It was a warm one, but absolutely beautiful.
Mid-Afternoon Snacks
Around 3:45ish I started getting hungry again, but I knew it was too late to dig into my salad since I'd be eating dinner early. So instead, I had a couple of snacks to tide me over including some fresh cantaloupe…
(with a side of baby bump) ;)
and some Wasa crisp crackers with peanut butter (x3).
Dinner
Almost immediately after I got home from work, Jay and I had to head out the door for our breastfeeding class. It was at this point that I was incredibly happy with my decision to hold off on my salad from earlier…it was all ready to go!
And thankfully, Jay drove, so I could eat it on the way.
The breastfeeding class itself went very well. I'm not sure exactly what Jay was expecting, but I don't think he was expecting to see so many photos of naked boobs. ;) Aside from that, I found the class to be very informative and helpful, and I'm pretty sure he did too. There were a lot of basic things that I just hadn't been aware of up until this point, so I definitely left feeling a little more prepared in that department.
Dessert
By the time we got home a few hours later, it was just about time to watch New Girl and both of us were craving a little something sweet…so we finished off the rest of our rainbow sherbet while watching the show.
Chelsey seems to think I'm weird for putting chocolate chips on my sherbet. I say no WAY. It's the perfect way to get a little bit of fruity and chocolate all in one.
On a different, somewhat of a downer note, Jay and I are thinking about nixing our Babymoon this weekend. We've been checking the weather all week long, and right now Portsmouth just is not looking very good for when we'd be there on Saturday and Sunday…
I want to go in the worst way, but since most of what we want to do would be outside, I really don't know how enjoyable it would be to be battling winds and rain the whole time? We'd hate to go, spend the money, and be stuck bolting from store to store to get out of the weather. But on the other hand…I'd hate to NOT go and have it wind up being not so bad. Plus, I don't think we'll have any other opportunities to go before the babe arrives.
Sooooo, we're feeling a bit stuck at the moment. Hopefully the weather will just make a drastic change one way or the other for us to make our decision easier. Either way, I'm pretty sure we have to decide by today so we don't get charged for our reservations. I guess we'll have to see what happens!
What do you think…brave it and go, or stay back and figure out a different type of "babymoon" at home? :)