Guys. Has it seriously been since October when I last did a WIAW post? I knew it had been a little while, and maybe I'm losing my mind, but has it really been that long? Sheesh.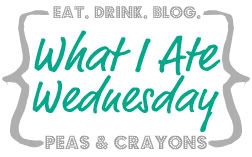 Well, today I'm back again with a new one! I managed to document all of my eats from Tuesday AND actually found the time to blog about them all. Whaddya know?!
Before we get to that though, can I just say how incredibly awesome you guys are?? Thanks so much for all the sweet comments yesterday. You all sure know how to make a gal feel good about herself!
Breakfast
A cup of coffee + blueberry banana walnut Hot Oats + a banana
I actually really missed out on my green smoothie yesterday morning. I have been making them almost every morning but a) it was absolutely freezing yesterday and the thought of drinking something cold didn't sound all that great, and b) I ran out of time to make it in the morning anyways. Hey, maybe today?
Mid-Morning Snack
I found myself starving again around 10:15am, so I spread a bunch of peanut butter on a couple of rice cakes I had stashed at my desk (unfortunately, they're all gone now…time to restock!).
I've totally been lovin' on this combo lately, FYI. So, so good.
Lunch
A big ol' salad with mixed greens, cucumbers, carrots, grape tomatoes, dried cranberries, feta cheese, and some rolled up deli turkey with parmesan peppercorn dressing on the side.
I also had a meeting later in the morning and one of the guys I work with brought in some homemade hummus and chips, so I snacked on some more of that with lunch.
Umm, ok seriously? Homemade hummus is unreal. Why do I even buy the store-bought stuff?? I need to get on that, like, yesterday.
Mid-Afternoon Snack
Lunch did a good job of filling me up but I still wanted a little something sweet, so I snacked on the two clementines I brought with me to work (for one of the first times in my life, I have yet to find a "dud" in my box!)
I also sipped on a hot mug of chai green tea to try to defrost my hands (it was absolutely freezing in our office yesterday!).
After work, I picked up the boy, came home, and we did our usual thang…feed, hang out and play, dinner time for Lucas, and bedtime. Jay actually took care of bedtime last night (we're trying to have him do it occasionally with a bottle, just so he can get used to both of us) so I took a quick 25 minutes to squeeze in a workout. I had been trying to psych myself out all day to do it and I was SO pumped when I made it happen!
As someone who would most definitely choose to exercise in the morning (but is not quite possible just yet with Lucas's sleeping), trying to workout in the evening is not always easy. I'm not sure how often I'll be able to make it happen, but a quick workout tonight totally seems doable. I'm feelin' good about it.
Dinner
While I finished up my workout, Jay actually took care of making dinner for us (what a guy, right?).
We were originally planning on making paninis but we never got the bread for it (DUH), so we improvised and made smothered chicken instead. He marinated and grilled up the chicken, then topped it with some sliced avocado, bacon, and provolone cheese, with some frozen veggie + potato thing on the side. Mmmm mmmmmm was it good.
I also need to tell you guys about a delicious dinner that we had on Monday, too. Our friends Sarah and Jeff came over to visit and Sarah offered to make us dinner at our house (gosh, I love her). She made her favorite chicken parm recipe and OMG, was it goooood.
Rock on, Sarah. You make a meeeeeean chicken parm.
(Fun Fact: Sarah and Jeff are having a baby boy this coming April, so Lucas is going to have yet another friend to play with!)
I loaded my plate up with chicken and pasta. There was no holding back…and I had no problem finishing pretty much all of it.
Wanna know another fun fact? The plate above with the smothered chicken was our smaller dinner plate; the plate right above with the chicken parm is our large dinner plate. Funny how they look so similar, right?
Dessert
As of the time I'm writing this post (on Tuesday night) I've yet to have something, but I'm pretty positive I'll probably be finding some sort of chocolate this evening. ;)